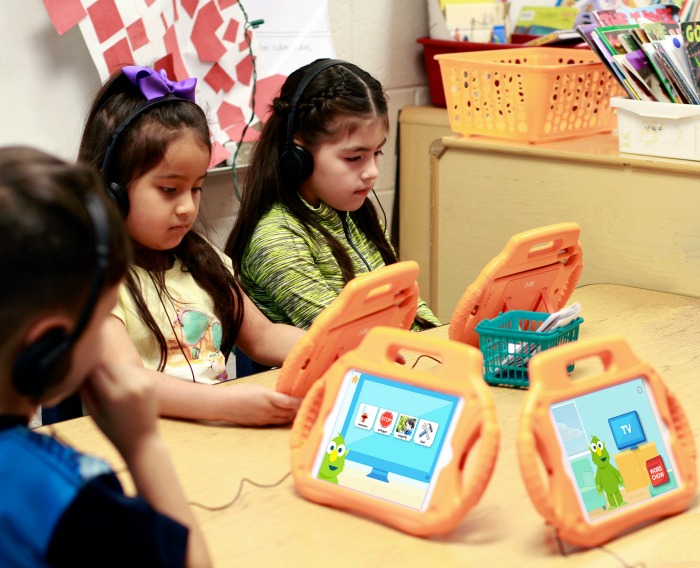 Ask Cookie Monster what is the "Letter of the Day," and he just might give you three: IBM.
That's because IBM and Sesame Workshop, the nonprofit organization behind the educational program Sesame Street, are working together to prove that it's possible to enhance early childhood education experiences with a new cognitive vocabulary learning app.
Built on IBM and Sesame's intelligent play and learning platform and powered by IBM Cloud, this ecosystem taps into IBM Watson's cognitive capabilities and content from Sesame Workshop's early childhood research, and is the first of many future cognitive apps and toys that will be built on the new platform.
The Vocabulary Learning App is an intelligent tutoring platform for early childhood education. It uses Watson's natural language processing, pattern recognition, and other computing technologies to refine content and create personalized experiences for each child.
"This lends itself to a true transformation in early childhood education – enabling deep levels of personalized and adaptive learning globally, through multiple experiences in both digital and physical worlds," said vice president of development and offering management at IBM Watson Education Chalapathy Neti.
With its cognitive power, the Vocabulary Learning App continuously learns with a child as the child engages it, Neti explained. Instead of bombarding the child with words he or she may not understand, the app identifies each individual student's ability level. It can identify words or areas that might need additional focus, "refining the experience to deliver content that engages and inspires a child — this ultimately helps advance the child's vocabulary based on his/her acumen," said Neti.
IBM and Sesame completed an initial pilot with the Vocabulary Learning App at one of the top urban school districts, Georgia's Gwinnett County Public Schools. The Gwinnett pilot program is the first time that Sesame Workshop content and Watson technology have been tested by both students and educators.
According to Neti, IBM collected 18,000 feedback points from 120 students at Gwinnett. From these data points, IBM found that the app helped many students acquire new vocabulary words, like "camouflage" and "arachnid."
"Not only did they learn the meaning of these new words, they began to naturally incorporate the words in their conversations throughout the classroom," said Neti. "Furthermore, the pilot showed that the students really enjoyed learning through the videos and with the Sesame characters; this engagement led them to listen more closely and ask more questions."
The teachers involved in the pilot noted that the app was a beneficial addition to their classroom, and during the pilot, several teachers found that kindergarteners were able to use challenging words (like arachnid) based on the progression of words they were exposed to in a two-week period.
Before rolling out the app to students and educators around the world, IBM will first expand the pilot program this fall, and then eventually, the company plans to release similar cognitive learning tools in the future, like games and educational toys, said Neti.