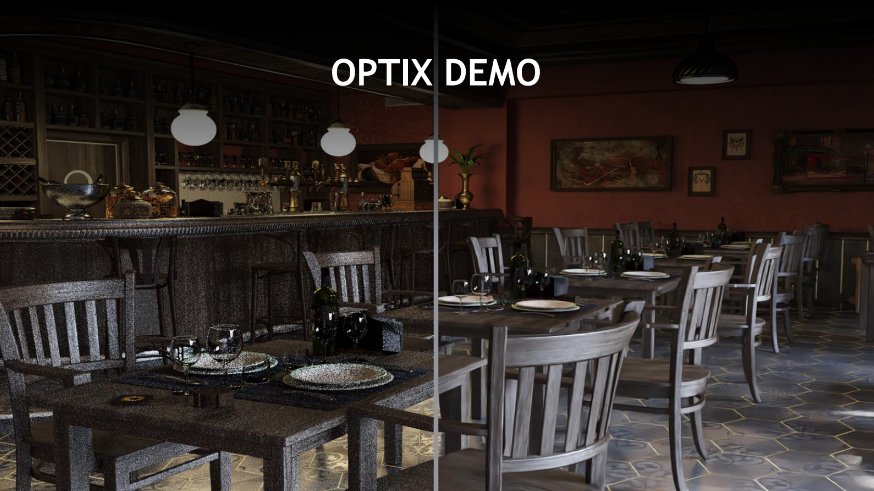 NVIDIA is bringing artificial intelligence to graphics and computing with new SDKs, computer products, and AI research. The company unveiled its plan to bring AI to 25 million content creators at the SIGGRAPH 2017 conference today.
According to Greg Estes, vice president of developer marketing at NVIDIA, it has been several years since NVIDIA first started working with AI technology, starting with processors for AI. At SIGGRAPH today, the company is bringing its research full-circle by bringing AI into computer graphics.
At the conference, NVIDIA announced the new Optix 5.0 SDK, which is a ray tracing engine and framework for optimal ray tracing performance on a GPU. It's used by commercial rendering applications and internal applications at studios like Pixar. Optix 5.0 SDK also includes a GPU-accelerated motion blur, and according to Estes, it will be available in November.
"We have a very big SDK profile just for creating AI, with the basics to have deep learning primitives, which are used by the AI frameworks, and pretty much all of the AI applications today take advantage of that," said Estes. "Now we are bringing these new [AI] capabilities into graphics, with the new Optix SDK [that] will give [developers] a trained neural network, which [they] can take the code and put it in their application."
Estes added that developers can use Optix SDK to build their own ray tracing renderer based around optics, and take advantage of AI denoising.
"From the research to the SDKs to training, that is our platform for developers," said Estes.

A key component to NVIDIA's strategy is building applications. While NVIDIA isn't building applications to sell them, the company feels that developing applications is an easy way to demonstrate to the rest of the world what is possible with virtual reality.
Another product announced today is NVIDIA's DGX Station, a personal supercomputer for developing AI for graphics applications. NVIDIA also revealed the Titan X and Quadro External GPU. The company says that traditional systems and consumer notebooks that are equipped only with integrated graphics or small GPUs are underpowered and cannot meet the demands of content creator and today's applications.
Content creators need to find a way to access more powerful graphics without giving up their advantage of mobility, according to the company, which is why NVIDIA's professional graphics capability to PC notebooks comes with video editing, color grading, rendering, and virtual reality capabilities.
The Quadro External GPU (Quadro eGPU) is for certified professional applications, and it's a way for developers to simplify existing workflows so they can work with larger more complex designs, like photo realistic renderings. Creators can also tap into virtual reality with Quadro eGPU, which NVIDIA said just wasn't possible with integrated graphics until today.