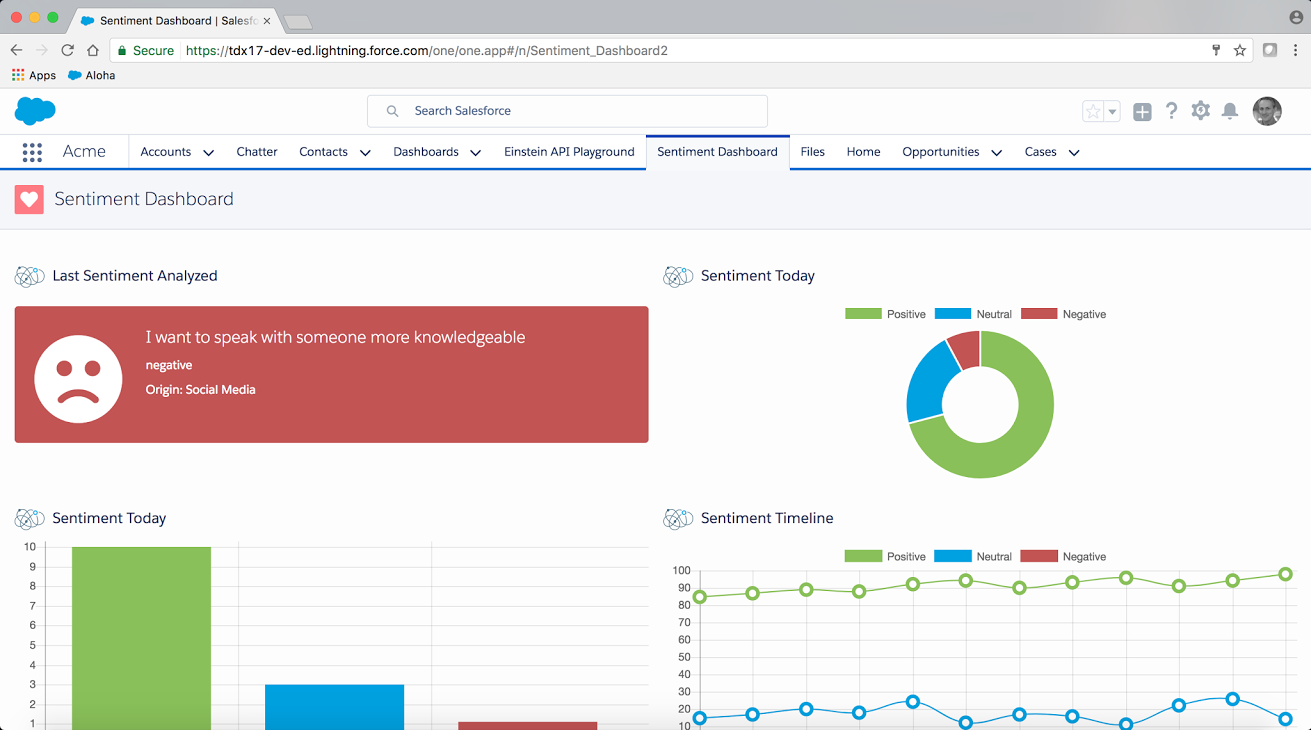 When it comes to developing applications, developers are facing a host of new pressures to keep their apps relevant and useful to their users. One of these pressures is building artificial intelligence and predictive experiences into applications so users can have customize and exciting experiences. At its TrailheaDX developer conference today, Salesforce announced it's tackling this challenge with new Einstein Platform Services, so companies can deliver next generation sales, service, marketing and commerce experiences.
According to stats from IDC, 80 percent of applications will have an AI component by 2020. To keep pace with these innovations and expectations, developers will need to create intelligent and personalized app experiences. With new platform services with Salesforce Einstein, a comprehensive AI for CRM, developers can create custom deep learning models to fit their business needs, and compete with other intelligent apps on the market.
One update to the portfolio includes Einstein Sentiment, developers can classify the tone of any text, from emails or social media posts, as a way to determine customer attitudes. For instance, developers can determine whether a statement like, "One hour wait on hold and I finally get some customer service." It will recognize whether the statement is positive, negative, or neutral.
Customers can retrain these models to fit a particular niche industry, bringing examples to the sentiment model, branch that model off, and have their own sentiment model, according to Salesforce.
Einstein Intent is another platform service added, and this allows developers to train models to classify the intent of customer inquiries to automatically route leads, or personalize marketing campaigns. A customer could use Einstein Intent to build a custom application that automatically classifies inbound customer support queries to identify which customers are experiencing shipping problems. Then the company can provide support messaging and tracking details, according to Salesforce.
Einstein Object Detection is one other service added, and this lets developers train models to recognize multiple unique objects within a single image, as well as location, size, and quantities of those objects. For instance, a beverage company can streamline the inventory of soda in vending machines by automatically analyzing photos of the shelves to count the product, and then calculate a new product order.
In addition to these new platform services designed to create custom deep learning models for businesses, Salesforce's interactive and gamified learning platform, Trailhead, now has new Trails from Atlassian, GitHub and Salesforce.
Trailhead takes developers on free, guided learning paths, and at the end of every "Trail," they are given badges to display their knowledge and competency in developer skills. With this new update announced today, developers can receive new badges like Agile Basics and Agile Frameworks from Atlassian, or GitHub's new Git and GitHub basics badge on Trailhead. Developers can also receive badges from Salesforce, like the Sales Cloud Platform badge or the Service Cloud Platform badge.