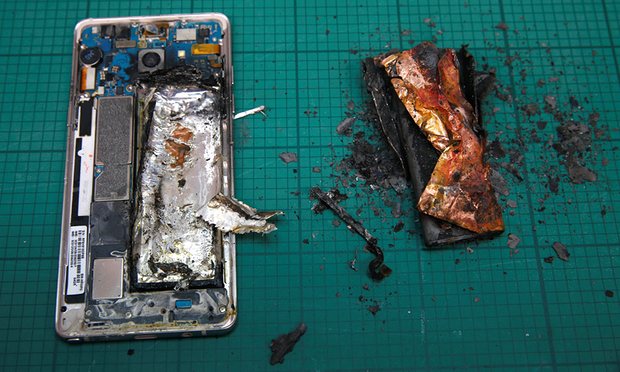 Samsung's smartphone crisis has worsened after the tech giant suspended production of the Galaxy Note 7 model. This decision comes after reports of replacement smartphones catching on fire.
According to Reuters, Top U.S. and Australian carriers also suspended sales or exchanges of Note 7's, and major airlines strengthened the bans of devices brought onto planes.
Also, an unnamed source at a Samsung supplier said that the company decided to halt production of the smartphone, which is one of the most "advanced and expensive on the market." According to The Guardian, "AT&T said on Sunday it would stop exchanging new Note 7 smartphones due to reports of fires from replacement devices that Samsung said contained safe batteries."
The first replacement device caught fire on Thursday (on an airplane), and another on Friday in the hands of a 13-year-old girl, wrote the Verge. The Verge also suggested that Samsung knew about a third Samsung Galaxy Note 7 catching on fire, but didn't say anything.
Reports of fires in the phones that were meant to replace devices that had been recalled shows that Samsung has failed to fix the original problem, and it could hurt the brand further, said the Reuters report.
Loggly integrates with Atlassian JIRA Software for sharing log data
Loggly announced an integration with Atlassian JIRA Software to take out unnecessary steps as a way to improve the software development and operations workflow.
Issues can be created in JIRA Software from within Loggly with a mouse click, and Loggly will add relevant log data to the JIRA Software issue, which removes some of the additional steps users would need to take when switching between applications and contexts.
Along with this announcement, Loggly also integrates with Atlassian HipChat, allowing HipChat users to receive alerts triggered by Loggly's Live Tail feature, said the company. The JIRA Software integration is also available to users of Loggly Enterprise plans, as well as trial users.
Table tennis robot uses AI to adjust to opponent's skill level
The table tennis robot FORPHEUS that was developed by Japan's Omron is getting smarter. Using artificial intelligence, the robot can scale up or down to its opponent, ranking them with 90% accuracy.
FORPHEUS has a sensor that measures the position of its opponent, and it predicts the trajectory of the ball so it can hit it right back. At this year's CEATEC 2016 show, Omron demonstrated how it uses artificial intelligence to adjust its serve. If the opponent is good, the robot will play accordingly. If the player is a beginner, the robot will hit the ball more softly.
The robot can be seen in action in this YouTube video.