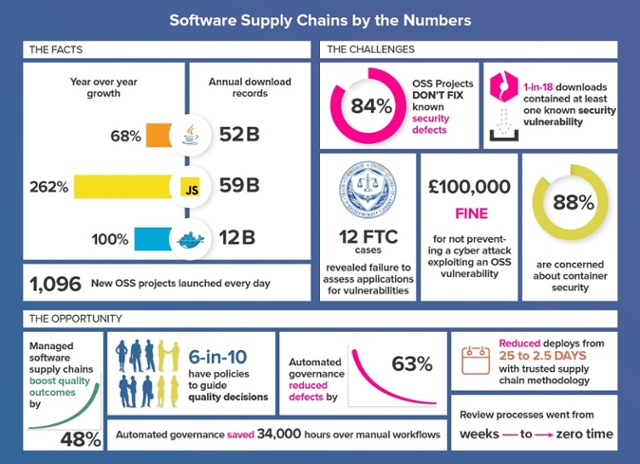 Sonatype released its third annual State of the Software Supply Chain report, which highlights risks within open source software components. The report also highlights the benefits of managing software supply chain hygiene.
"Companies are no longer building software applications from scratch, they are manufacturing them as fast as they can using an infinite supply of open source component parts. However, many still rely on manual and time consuming governance and security practices instead of embracing DevOps-native automation. Our research continues to show that development teams managing trusted software supply chains are dramatically improving quality and productivity," said Wayne Jackson, CEO of Sonatype.
Key findings from the report include: consumption of open source components is growing at a massive scale, component suppliers remain slow to fix vulnerabilities, and the number of downloaded components with known vulnerabilities is slightly decreasing.
More information can be found here.
Motorola and Neurala bring AI to cameras
Motorola and Neurala are teaming up develop artificial intelligence cameras to ensure public safety. The companies hope the cameras will enable police officers to better search for objects or persons of interest.
"We see powerful potential for artificial intelligence to improve safety and efficiency for our customers, which in turn helps create safer communities," said Paul Steinberg, CTO for Motorola Solutions. "But applying AI in a public safety setting presents unique challenges. Neurala's 'edge learning' capabilities will help us explore solutions for a variety of public safety workflows such as finding a missing child or investigating an object of interest, such as a bicycle."
Bitfury launches blockchain framework
The Bitfury Group released a new open source enterprise-grade blockchain framework, Exonum. It's an authentic blockchain platform that companies, institutions, and the government can use to easily and securely build blockchain into applications.
"We have spent almost two years working to create our Exonum Blockchain platform, deeply analyzing and modeling different Blockchain concepts. Exonum is the direct result of extensive research and testing by our elite team of best-in-class mathematicians, scientists, developers and analysts coming together to create this inimitable platform," said Valery Vavilov, CEO of The Bitfury Group.
The source code for Exonum can be found through the product's official website and on GitHub. Developers can incorporate, adapt, or extend the source code for their needs.