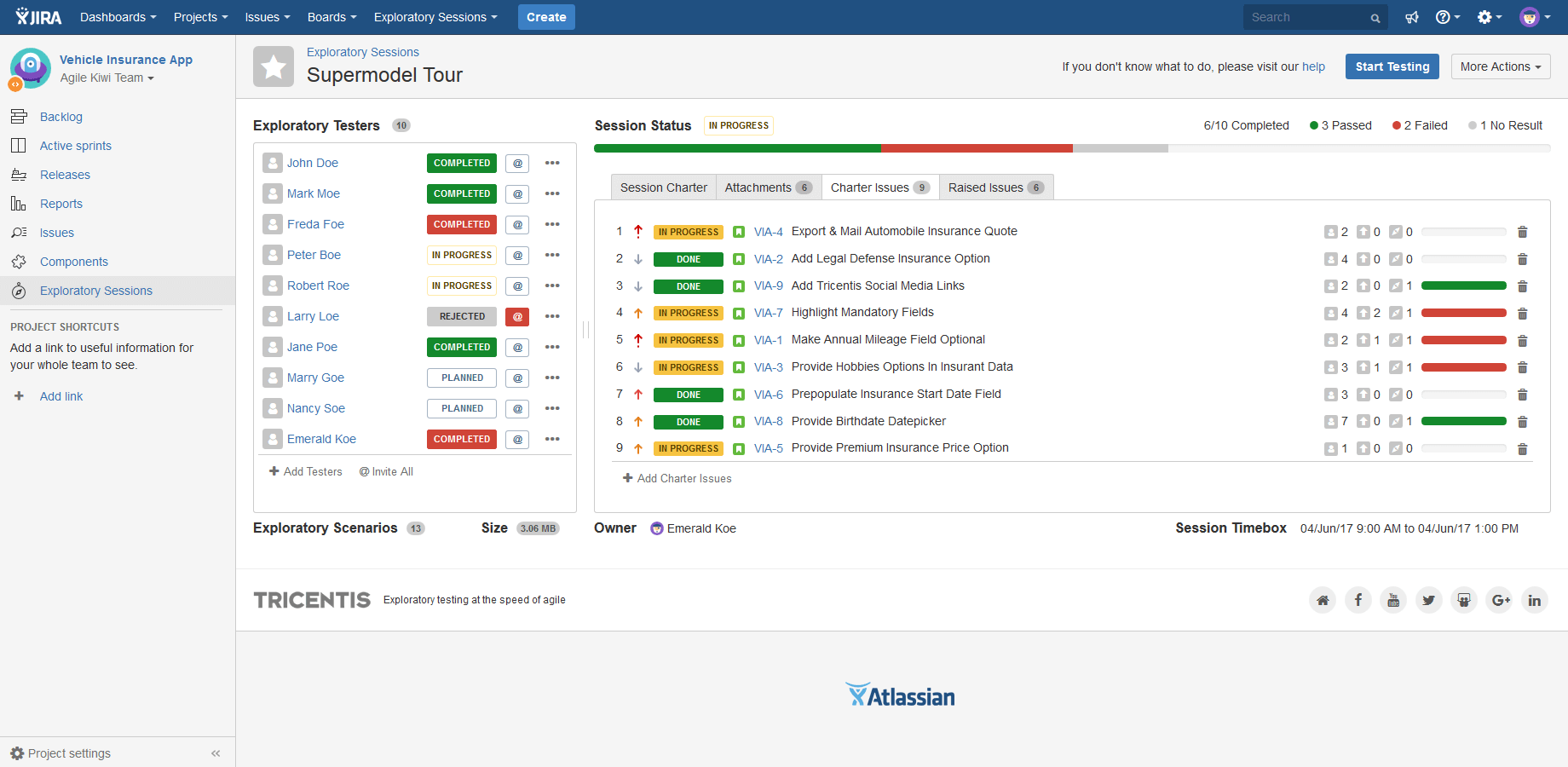 Tricentis announced a exploratory testing tool for Atlassian JIRA. The native add-on aims to simplify planning, documentation and reporting of exploratory testing within the JIRA environment and provides full traceability between exploratory test results and associated JIRA issues.
According to Tricentis, with this new add-on, agile teams can rapidly and reliably receive and deliver feedback on applications, and keep up the pace of software development today. In addition, the add-on enables teams to plan and timebox sessions, write charters, define test objects, invite team members, and add related artifacts directly from the Atlassian JIRA environment.
"In response to the rising demand for new and innovative software, development teams shifted their software development processes to become more agile and iterative," said Wolfgang Platz, founder and chief product officer of Tricentis. "This means that there must also be a fundamental change in the way we test software. We have found that exploratory testing is vital for accelerating test cycles and keeping pace with release expectations."
Slack updates App Directory, announces new Slack Fund
Slack has announced it is moving its App Directory into the Slack client. The App Directory provides a place for users to find apps. This move will allow them to find apps right in their sidebars to make apps more discoverable, and easier to interact with.
According to the company, the move is designed to provide better app engagement, retain users, and enable users to find bots in the App section of the sidebar. Currently, only bots will appear in the sidebar, but the company plans to use this as a new canvas for future app functionality.
In addition, the company announced seven new Slack Fund companies. Companies include Polly, Neva, Drafted, StdLib, Loom, PinPT Software, and Parabol.
Talend announces new data connectors
Talend unveiled a new set of connectors for the Talend Data Fabric platform to accelerate Big Data pipeline development for Microsoft Azure. The connectors will provide the ability to simplify cloud data pipeline creator for Azure developers, integrate streaming and historical data for contextual insight, migrate on-premises data to the Azure cloud, scale data quality, and improve DevOps productivity.
"Teaming with Microsoft allows us to deliver a complete solution for scaling big data workloads in the cloud. While other data integration solutions only connect with a few data sources, our Summer '17 release of Talend Data Fabric includes in-depth, native functionality to help customers quickly migrate a broad range of on-premise data sources to the Azure cloud and optimize cloud data pipelines, speeding time to insight," said Ashley Stirrup, CMO of Talend.
IBM Watson heads to businesses
IBM announced its first IBM Watson-based services platform for service provider operations. The new solution is built on the IBM Cloud and provides companies with artificial intelligence capabilities that enable them to combine human intelligence and insight with technology. According to IBM, this will result in the ability to predict and identify potential problems, and self heal.
"In a world where always on is the new norm for businesses of all kind, clients expect from their services partners the ability to deliver operational excellence at any time, at any place for any system,"  said Martin Jetter, IBM senior vice president of global technology services. "The IBM Services Platform with Watson will redefine service delivery and quality and provide significant competitive advantages to our clients."
Flexera and Microsoft's new supply chain partnership
Flexera is teaming up with Microsoft to tackle the software supply chain. Together, the companies will create transparency and visibility into the amount of software that has been purchased, deployed and used.
Microsoft's new Intelligent Asset Manager will be used along with Flexera's Software Asset Management solution to provide customer insight into Microsoft software owned, deployed, and entitled to use.
"Flexera understands how important transparency and vendor involvement are in a healthy software supply chain," said Jim Ryan, President and CEO of Flexera.  "We're extremely proud to work with Microsoft to help our mutual customers create more value-driven relationships and get more from their Software Asset Management deployments."