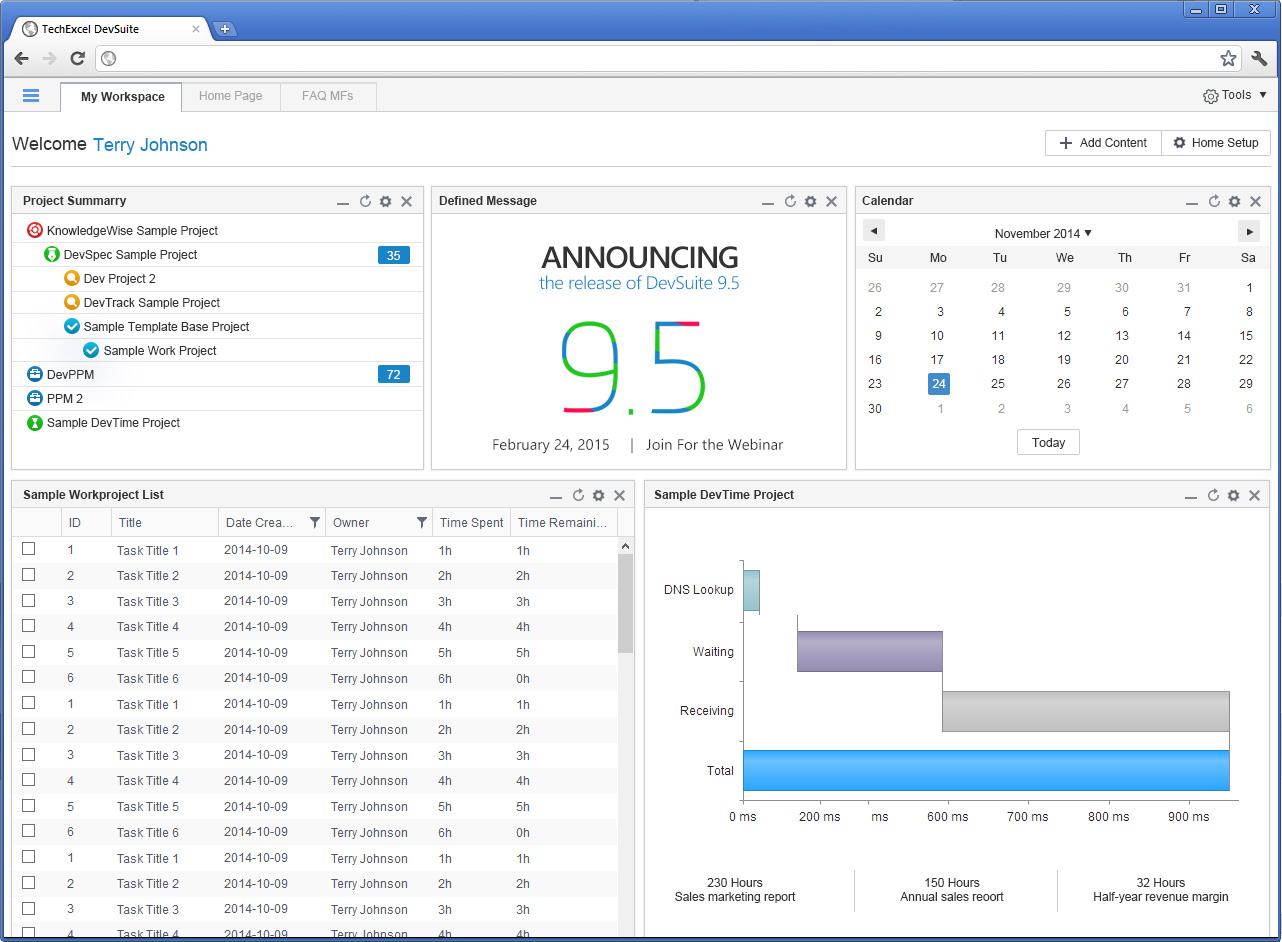 TechExcel is taking a turn toward project portfolio management with the latest release DevSuite 9.5, its application life-cycle management suite.
"In today's world, project management is very important to every organization," said Tieren Zhou, founder and chief software architect of TechExcel. "It really helps a organization be successful and generate revenue."
With the new project portfolio management (PPM) capabilities, users can manage their development life cycles, status automation, milestone changes, finances, risk assessments, job performance evaluations, customer satisfaction and resources in their preferred methodology such as agile, waterfall or a hybrid approach. In addition, the new capabilities support projects and procedures that adhere to industry international standards.
"With the release of DevSuite 9.5, we're providing our customers with an enterprise-strength, high-caliber PPM solution to manage all projects based on definable project workflows, and procedures compliant with ISO, ITIL, CMMI, and other standards," Zhou said.
The release also features a completely redesigned user interface in order to provide a better user experience.
"DevSuite 9.5 is primarily about giving our end users the best possible navigation experience," said Zhou. "Customers want to have a prettier user interface and want to see an easier navigation experience. A new user interface has been requested by many of our customers."
In the past, DevSuite only allowed users to look at one tab at a time. The revamped user interface provides a new dynamic tab layout allowing users to use the entire screen to manage as many simultaneous tabs as they need, which improves development and QA teams' usage and productivity, according to Zhou.
"We not only want to provide the best feature set, we want to be recognized to be the tool that provides the most modern and best-looking user interface," he said.
Other features of DevSuite 9.5 include greater page flexibility, all-in-one development for Web and tablets, URL-based item navigation support, multiple tab dashboard support, and enhanced icons, buttons and page designs.