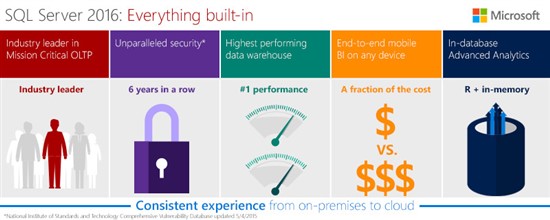 Microsoft is furthering its commitment to Big Data with new products designed to help businesses make smarter decisions about their data. The company announced an upcoming preview of SQL Server 2016 3.0, its intelligent Big Data platform.
"We live in the age of data, and the ability to extract actionable intelligence from data is driving a fundamental transformation in how we live, work and play," wrote Joseph Sirosh, corporate vice president of machine learning at Microsoft, in a blog post.
The latest preview features always-encrypted security; built-in SQL Server R services for fast predictive in-database analytics; PolyBase; and improvements to its analysis and reporting services.
(Related: Flexibility is key for Big Data analytics)
The always-encrypted feature helps protect data at rest and in motion. "Using Always Encrypted, SQL Server can perform operations on encrypted data and—best of all—the encryption key resides with the application in the customer's trusted environment. It offers unparalleled security," Sirosh wrote.
PolyBase is a built-in feature that is designed to extract value from structured and unstructured data.
In addition, the preview features mission-critical performance with in-memory OLTP technology, JSON support, and real-time operational analytics.
"With the upcoming release of SQL Server 2016, our best SQL Server release in history, and the recent availability of the Cortana Analytics Suite, Microsoft is offering unmatched innovation across on-premises and the cloud to help you turn data into intelligent action," Sirosh wrote.
The company also announced a public preview of its Azure Data Lake Store and Analytics Service that aims to make it easier for developers, data scientists and analysts to store all types of data and process it across a number of different platforms and languages.
"It's never been easier to capture, transform, mashup, analyze and visualize any data, of any size, at any scale, in its native format using familiar tools, languages and frameworks in a trusted environment, both on-premises and in the cloud," Sirosh wrote.