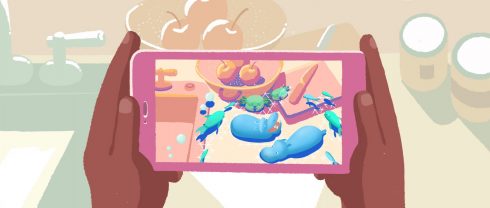 Google has announced plans to kill Project Tango. Project Tango was first announced in February of 2014 as an experimental Android phone designed to bring 3D motion and augmented reality to smartphones.
The project used motion tracking, area learning and depth perception to bring computer vision to phones. It will be deprecated on March 1st, 2018. However, the company explains this will not mark the end of its augmented reality journey. Google is killing off Project Tango in favor of ARCore, a new platform for creating augmented reality apps for Android devices.
Similarly to Project Tango, ARCore uses three key technologies: motion tracking, environmental understanding and light estimation.
"ARCore's understanding of the real world lets you place objects, annotations, or other information in a way that integrates seamlessly with the real world. You can place a napping kitten on the corner of your coffee table, or annotate a painting with biographical information about the artist. Motion tracking means that you can move around and view these objects from any angle, and even if you turn around and leave the room, when you come back, the kitten or annotation will be right where you left it," Google wrote on ARCore's website.
ARCore is available today as a developer preview, enabling developers to experiment with AR apps. It currently supports Google Pixel, Pixel XL, Pixel 2, Pixel 2 XL and Samsung Galaxy S8.
"We're turning down support for Tango on March 1, 2018. Thank you to our incredible community of developers who made such progress with Tango over the last three years. We look forward to continuing the journey with you on ARCore," the company announced on Project Tango's Twitter account.