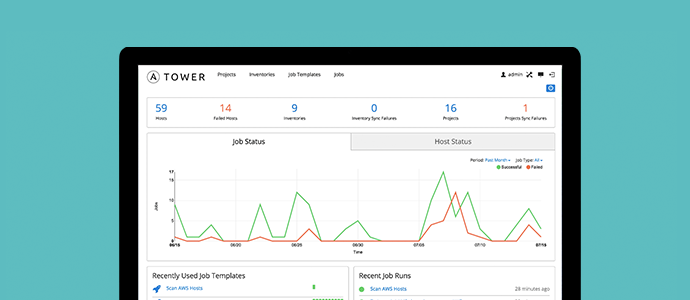 Red Hat wants to give DevOps teams more control and options in its latest release of Ansible Tower 2.4: the open-source automation tool designed to help DevOps manage and track their infrastructure. This is the first release of Ansible Tower since Red Hat acquired Ansible in October.
"Adopted by Fortune 100 companies and government organizations worldwide, Ansible Tower offers ease of integration across the board," said Tim Cramer, vice president of engineering for Ansible at Red Hat. "The powerful identity-management, authorization and session-related capabilities in Ansible Tower 2.4…further enable IT organizations to simplify their IT management with simple, agentless and powerful IT automation while keeping their environment's security requirements."
(Related: Red Hat acquires Ansible)
The release features OAuth authentication via GitHub and Google, using OAuth 2.0 so organizations don't have to add users directly to the Tower, but can pull users and teams from the accounts they are already using. New enterprise authentication support has been added to make it easier for enterprises to use Tower with authentication mechanisms and features they already have in place. SAML 2.0 has been added for identity and authorization management, while support for RADIUS has been included for authentication.
Other features include:
• Configurable session limits and timeouts to configure Tower for session time with auto logout, and to limit users to a specific number of active sessions at any time.
• Custom branding that allows Tower admins to customize their login logo, add custom login messages, and provide information about the system being accessed.
• Usability analytics that collect statistics on how the Tower interface is being used. According to Bill Nottingham, director of product at Ansible, this will allow the company to enhance future releases and provide context-sensitive help throughout the platform.
"In this release, we've focused on some core improvements for our customers operating in spaces like government and security who have specific needs around authentication and tracking, but we expect these features will be useful to much of our general user base as well," he wrote in a blog post.