U.S. Senators have introduced a bill designed to improve vehicle security. The Security and Privacy in Your Car (SPY Car) Act, proposed by Senator Edward Markey and Senator Richard Blumenthal, intends to establish federal standards that would secure cars and protect drivers' privacy. In addition, a rating system, also known as a cyber dashboard, would be established to indicate how well a vehicle protects security and privacy beyond minimal standards.
"Drivers shouldn't have to choose between being connected and being protected," said Markey. "We need clear rules of the road that protect cars from hackers and American families from data trackers. This legislation will set minimum standards and transparency rules to protect the data, security and privacy of drivers in the modern age of increasingly connected vehicles. I look forward to working with Senator Blumenthal to ensure auto safety and security in the 21st century."
Flurry releases report on 'mobile addicts'
Flurry, the mobile monetization company acquired by Yahoo, has released a report showing how many "mobile addicts" are out there. (Mobile addicts are essentially mobile "power users" that according to Flurry launch apps more than 60 times per day.)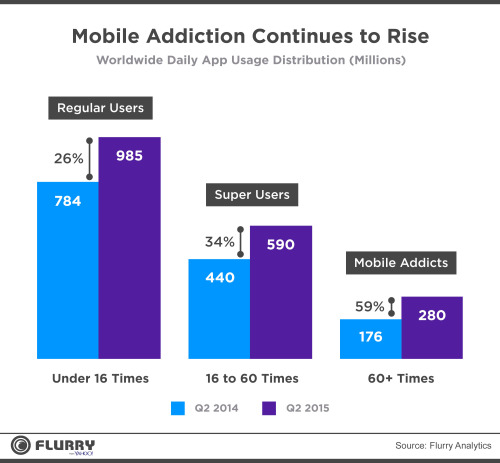 According to the latest report, worldwide mobile addicts grew by 59% last year, based on Bank of America's second annual Consumer Mobility report data. From Q2 2014 to Q2 2015, the total population of smart devices measured by Flurry grew from 1.3 billion to 1.8 billion, a 38% year over year growth.
"Regular users," consumers who Flurry said use apps between once and 16 times daily, grew from 784 million to 985 million in the same period, a 25% increase. "Super users," consumers who use apps between 16 and 60 times daily, grew even more in that same period from 440 million to 590 million, a 34% increase. Mobile addicts grew from 176 million to 280 million consumers over the same period, with Flurry identifying messaging and social apps as the most popular for mobile consumers.
The April 2014 blog post where Flurry coined the term "mobile addict" is available here.