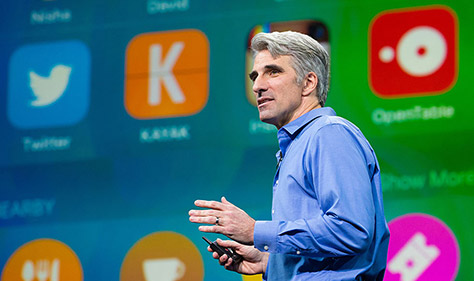 Mac OS X is now simply macOS.
The 27th annual World Wide Developer Conference kicked off this morning in San Francisco, and along with the new branding for the operating system, Apple also unveiled new features for macOS and iOS, including the Universal Clipboard, desktop sharing across devices, and enhancements to Siri.
macOS and iOS will both receive updates this fall. The macOS update will be known as Sierra, and both updates will be free. The desktop operating system will also be receiving a major feature of iOS: Siri.
(Related: Apple to open Siri to developers)
Users will be able to use Siri voice commands to launch applications, search for files on their hard drives, and perform basic tasks on the desktop. Developers will have access to these capabilities for their applications as well. This move mirrors the recent trends from Apple, Amazon and Microsoft, all of which have desktop or standalone voice-recognition assistants with APIs.
Universal Clipboard will allow users to copy and paste across their iOS devices. Links, for example, can be copied on an iPhone and pasted into a browser on a macOS device.
Craig Federighi, senior vice president of software at Apple, detailed the changes planned for iOS 10. Notable features include a redesigned lock screen, expanded use of 3D Touch, and rich notifications. Other changes include live collaboration in Notes, conversation view in Mail, live image stabilization, and split view in Safari on iPad.
iOS 10's applications are getting major overhauls as well. The Messages application, for example, can now display animated images and links. Emojis are also now 3x bigger in transcripts. There are also new message bubble effects to further indicate emotions with shaking effects.
Handwriting is now supported in Messages, as well as shared sketching. The entire Messages screen can now be changed with emotional images, such as fireworks. Many of the new features of Messages appear similar to those offered by popular messaging applications Snapchat and WhatsApp.
iOS 10 will have more connections and controls for home automation, said Federighi, indicating that iPhone owners will be able to unlock their doors, turn on their lights, and heat up their hot tubs automatically when they return home with it.
For developers, interactive notifications, iMessage apps and VoIP extensions are all new vectors for interaction with users. These and other areas of the operating system, including Siri, and offer greater API access for iOS developers to enhance their applications. Thus, macOS Sierra and iOS 10 both bring with them SDK enhancements for developers that are based on the user-facing changes already detailed.
Tim Cook then took the stage to discuss Swift. He said that Swift is the top language project on GitHub, and he discussed its use as programming language for teaching. He then announced a new iPad application designed to teach anyone how to program: Swift Playground.
"Swift Playgrounds will revolutionize the way people learn to code," said Cook. "There's never been anything like this. We believe it's the absolute best way to teach everyone to code." Swift Playgrounds includes an onscreen coding keyboard for iPad designed specifically for Swift development. The application will be available for free.
WatchOS and tvOS, Apple's two other operating systems, will both receive updates to increase their integrations with the other platforms, as well as performance updates to improve their response time.