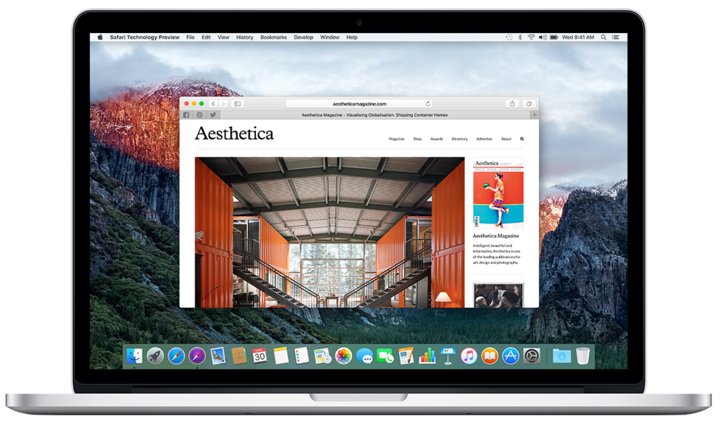 Apple is giving developers a sneak peek of its upcoming Safari Web technologies in iOS and OS X. The Safari Technology Preview allows developers to experiment with the latest layout technologies, visual effects, and developer tools to provide input on how they are implemented.
The Safari Technology Preview includes the most recent version of WebKit; the latest versions of Web Inspector and Responsive Design Mode that let developers modify, debug and optimize their websites; the ability to provide feedback using the Bug Reporter; the ability to run side-by-side with the current version of Safari; and iCloud support.
In addition, developers can preview ECMAScript 6, B3 Java JIT compiler, improved IndexedDB implementation, the latest version of Shadow DOM; the ability to programmatically cut and copy text; and the ability to define a policy for their Web apps.
Object Theory announces Mixed Reality Collaboration Service
The software development company dedicated to the Microsoft HoloLens, Object Theory, has announced a new service to help organizations design and build multi-user holographic experiences. The Mixed Reality Collaboration Service features shared, remoted experiences, customized avatars, 3D model display, and annotations.
"With our Mixed Reality Collaboration service, Object Theory's enterprise customers can improve communications effectiveness between dispersed teams, regardless of their location," said Michael Hoffman, founding partner at Object Theory. "This allows for efficient viewing and discussion of the same 3D models as if they were in the same place. The shared experience can easily transition between viewing a miniature 'situation room' style model, and walking around within a full-scale model."
Fidelity cuts value of Cloudera and Dropbox
Fidelity Investments has cut the estimated valuation of technology companies Cloudera and Dropbox. This is the latest indication of concern over the high prices of startups that have raised millions from private investors, but delayed going private, reported Reuters.
Fidelity, which has become a large investor in pre-IPO companies through mutual funds, marked down its stake in Big Data software company Cloudera by nearly 37%, said Reuters.
Cloudera, backed by Fidelity as well as high-profile investors like Google Ventures and T. Rowe Price, has a $4.1 billion valuation in the private market. Investors have anticipated its IPO for more than a year, said the report.
Fidelity also cut the estimated worth of Dropbox by almost 20%. Dropbox has been valued up and down by Fidelity, and it is estimated to be worth about $10 billion in the private market, said Reuters.