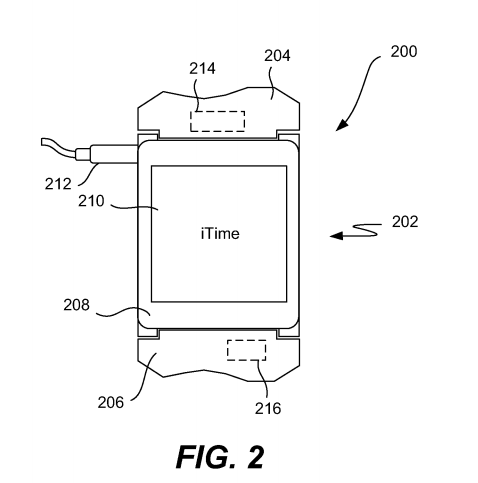 Apple granted patent for 'iTime' smartwatch
Apple's rumored development of an "iWatch" wearable device got a lot more real with a newly granted patent for a smartwatch dubbed "iTime."

(Related: Microsoft's recent patent for a fitness-focused smartwatch)

The U.S. Patent and Trademark Office published an approved Apple patent entitled "Wrist-worn electronic device and methods therefor," which details plans for a wearable that can connect to other Apple devices, as well as the watch's smart strap with built-in sensors. Designs for the wrist-worn device also show support for arm and wrist gestures, as well as GPS modules, vibrating notifications and WiFi.
The squarely designed wearable looks to transform the idea of an iPod Nano into a smartwatch that can connect to other devices as a media player or exist as a completely contained device. There is no information yet on when the iTime might be released, but rumors speculate late 2014 or early 2015. – Rob Marvin
Open-source project aims to make managing personal servers easier
Sandstorm is an open-source project that aims to make running your own personal servers easier. And to do so, they've turned to Indiegogo.
"Today, if you want to run your own personal server, you basically have to be trained as a system administrator, and even for those who know how to do that, it still takes a lot of time and money that most people don't want to spend," said Kenton Varda, team lead for Sandstorm, in a video.
Sandstorm provides a solution for hosting Web apps that gives users the experience from services like Dropbox or Gmail but uses the software they choose on servers they control. With Indiegogo, Sandstorm hopes to raise enough money to get it ready for production use. – Christina Mulligan