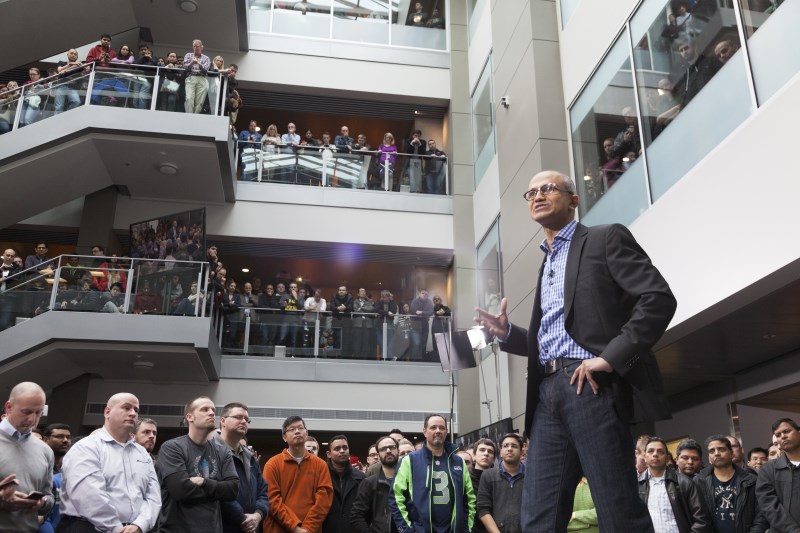 Microsoft is reorganizing its senior leadership team to be more aligned with its engineering goals, the company announced in an e-mail to its employees today.
"To better align our capabilities and, ultimately, deliver better products and services our customers love at a more rapid pace, I have decided to organize our engineering effort into three groups that work together to deliver on our strategy and ambitions. The changes take effect today," wrote Satya Nadella, CEO of Microsoft, in the e-mail.
(Related: Grading Nadella's first six months as Microsoft CEO)
According to Nadella, the goals of the company include reinventing productivity and business processes, building an intelligent cloud platform, and creating more personal computing. To align with those goals, the engineering efforts will be spilt up into a Windows and Devices group, a Cloud and Enterprise group, and an Applications and Services group.
The Windows and Devices group is a new team that will be led by Terry Myerson. The group will be combine the engineering efforts from the company's operating systems group and devices group, and will focus on personal computing experiences. "This new team brings together all the engineering capability required to drive breakthrough innovations that will propel the Windows ecosystem forward," Nadella wrote.
The Cloud and Enterprise group will continue to be led by Scott Guthrie and focus on the intelligent cloud platform, infrastructure and business services for enterprise customers. In addition, the group will work closely with the Applications and Services group to provide an end-to-end experience.
The Applications and Services group will be led by Qi Lu, and will focus on reinventing productivity. "This group is leading the charge in building productivity services for digital work that span all devices and appeal to the people who use technology at work and in their personal lives," Nadella wrote.
Nadella also announced that Stephen Elop, former Nokia CEO, will be leaving the company. "With the structural change described above, Stephen and I have agreed that now is the right time for him to retire from Microsoft. I regret the loss of leadership that this represents, and look forward to seeing where his next destination will be," Nadella wrote.
In addition to Elop, Kirill Tatarinov, executive vice president of the company's business solutions group; Eric Rudder, executive vice president of advanced strategy at the company; and Mark Penn, executive vice president and chief insight officer, will also be leaving the company.
"I'm certain that matching our structure to our strategy will best position us to build products and services our customers love and ultimately drive new growth," Nadella wrote.