There's no need to wait until the last minute for holiday gift shopping this year. Some of the newest gadgets for 2016 are either on the market now, or will be just in time for the office gift exchange or a trip to the in-laws.
Technology and software companies have been gearing up to release new products with the latest technology capabilities, including machine learning, drone technology, artificial intelligence, and robotics. SD Times had the opportunity to try out some of these devices at Pepcom's annual Holiday Spectacular technology event, held at the Metropolitan Pavilion in New York City in September.
Here's a roundup of some of the tech that stood out—good for anyone on your holiday gift list.
Cozmo: Cozmo is a little robot that's ready to play. Designed by a team of Ph.D. roboticists, animators, game developers, and a lead designer of the Batmobile, Cozmo can get to know you over time. It is powered by AI, robotics and computer vision, and it has a brain that processes more data per second than all the Mars Rovers combined, according to the robotics and AI company that produces it, Anki. Cozmo is compatible with iOS or Android devices, and it is ready to play right out of the box. Cozmo should be in stores now.
HP: HP showed off its newest PCs—the HP Pavilion Wave and HP Elite Slice—which aim to change traditional desktop designs. The HP Pavilion Wave is for customers who want a desktop that is built around audio systems. On the other hand, the HP Elite Slice is HP's smallest desktop, built for collaboration and communications. It also gives users extra functionality through stackable modules, like the audio module or optical disk drive module, for a customizable PC for the workplace.
Ozobot: Ozobot is a tiny, easy-to-program robot that prepares kids for the tech future. Recently, Evollve, the maker of the Ozobot Bit (which is designed for kindergartners and older), released its newest, app-powered robot, the Ozobot Evo. It's for ages eight and up, and has hours of games and programming projects that can introduce kids to the fundamentals of coding and STEM. According to the company, they have seen an increase in engagement from young girls—up to 60%, they say. Users can change the sounds and movements of the device, create their own commands, and even get it to communicate with other bots. Ozobot Evo is iOS- and Android-compatible.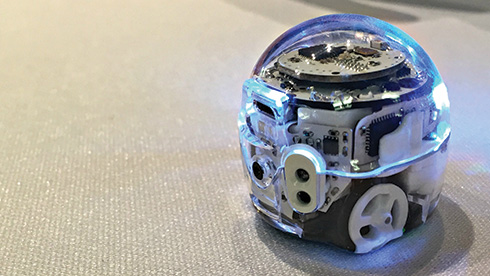 Phazon: Phazon Audio displayed its first product on Indiegogo: the Phazon wireless headphones that were designed "never to fall out." (Editor's note: We tried these headphones out; regardless of jogging in place and shaking our heads, they did stay in place!) There are no clips, inserts or wires on the ear buds, and they are designed to be a one-size-fits-all product. They are also fully waterproof, and there are audio controls right on the device. The company said these would work well with the newest iPhone since it eliminated the headphone jack.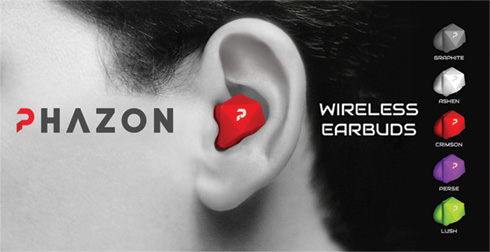 Plox: Plox, a company that creates a variety of technology products, introduced its official Star Wars speaker set, including the new levitating Death Star Speaker. It mimics the Death Star right down to rotating above a magnetic base, making it look like it's actually floating. Plox also displayed its Star Wars character speakers, modeled after R2-D2 and BB-8. May the Force be with you this holiday season!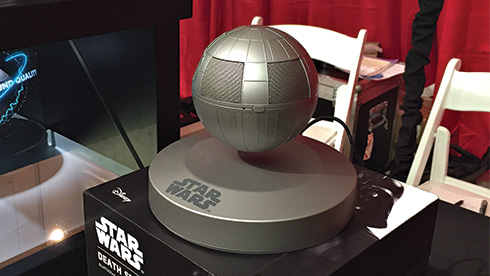 PowerVision: Is it a bird? A plane? PowerVision displayed its PowerEgg consumer drone that is designed for drone enthusiasts and first-time drone users. The device has a one-handed drone controller, so landing and takeoff can be done with the push of a button. The remote also has motion-sensing capabilities. Allowing the user to interact with and move the drone with gesture recognition.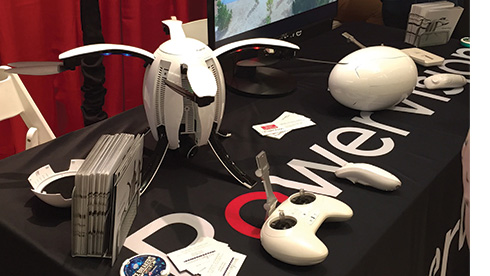 Samsung: Samsung's newest products are all about smart devices for the home and your little ones. In the third package of Samsung's BabyVIEW, it comes with a monitor, a Bluetooth wristband that vibrates when a sound is detected in the baby's room, and an environment sensor. The sensor allows a user to check the room's temperature, air quality, and humidity. Also on display was the Samsung Smart Home Security System, which has monitoring for both indoor and outdoor use. Samsung's SmartCam PT is already available, and the BabyVIEW and Samsung Smart Home Security Systems are slated for this month.
Sleep Number: Sleep Number showed off its "it bed," a smart bed that communicates how well each person slept the night before. Inside the bed is Sleep number's SleepIQ technology, which is a touchless, biometric sensor that gathers data used to configure an algorithm and SleepIQ score for each night. Using predictive modeling, it offers insights to help a person change the way they sleep, like choosing to go to bed earlier or adjusting the comfort level. The bed also connects with health apps and sleep environment devices for a better night's rest. The "it bed" is available to order now.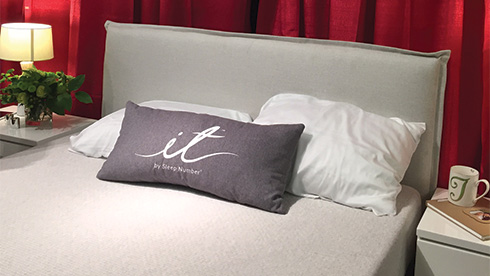 Spire: Spire's wearable aims to track breathing patterns to increase mindfulness and decrease stress levels. The device can be worn under a shirt or at the waist, and it uses algorithms in the Spire mobile app to classify breathing patterns that correlate with cognitive and emotional states. The accompanying Spire app is compatible with some Apple devices as well as Android. According to the company, it used the data collected from Spire users to build a solution that recreates calmer moments, predicts tension before it occurs, and reminds users of mindful activities to help them improve their state of mind.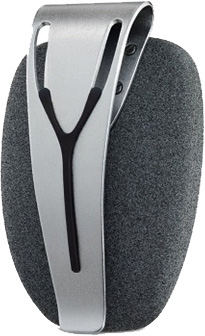 Tile: Notorious for losing your keys or wallet? Tile, a smart location device, debuted its latest product called Tile Slim, which expands the reach of the Tile smart location platform. Tile Slim is a thin Bluetooth tracker designed for wallets, but it also fits into purses, passports, laptops and tablets. It allows users to find a lost item by tapping into Tile's community so they can track the last known location of their item. The company also introduced its Tile Smart Location Platform, a B2B offering that allows companies to embed Tile's technology into their own Bluetooth-enabled products. The Tile Slim is currently available, along with the updated Tile app.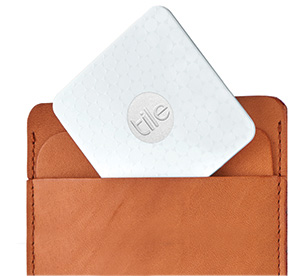 Withings: Withings, a French company recently acquired by Nokia, is known for its activity tracker portfolio. At the holiday show, Withings showed off its latest connected health wearable: the Steel HR, which includes fully featured activity tracking, heart rate monitoring and smartphone notification features. Steel HR can measure heart rates during workouts, during the day and while sleeping. The wearable connects with the Withings Health Mate iOS and Android application, and the app can also integrate with more than 150 health and fitness apps.