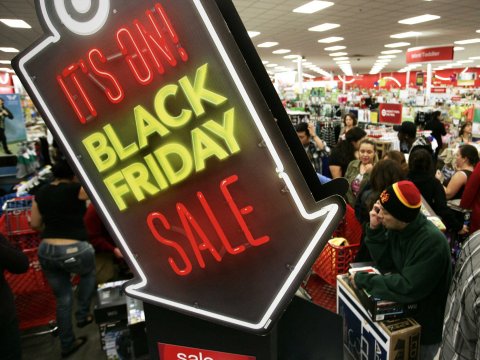 It seems the gift-giving season each year starts earlier and earlier. Walk into a store in January and see Valentine's Day promotions. Go to an online retail site in late September, and you'll see Christmas/Chanukah promotions. So, if you're writing applications at a retail outfit that counts on online revenue, your planning, development and testing need to start earlier and earlier as well.
Stat of note: On cyber Monday alone (that's the Monday after Thanksgiving), U.S. retailers took in US$1.2 billion dollars online. That's big dollars. It's also a big spike in shopping. "If you're not prepared [for that kind of traffic], your brand loses value and your revenues take a hit," said Tom Lounibos, president and CEO at SOASTA.
Back around the time of the financial meltdown in 2008, the term "black swans" was used to define rare and unpredictable events. Today, Lounibos said, nothing is unpredictable anymore, because of planning, monitoring and testing.
(Related: How retailers prepared for Black Friday last year)
A new category of testing has emerged because of these kinds of pressures on business: real user monitoring, or RUM. (I'll drink to that!) RUM helps organizations get a handle on performance in terms of bounce rates and conversations, based on latency.
"The question in the mind of every retailer is, 'What does a millisecond of latency mean in terms of the bottom line?' Now, businesspeople are involved in testing, as there is a correlation between performance metrics and business metrics," Lounibos said.
Organizations also can measure the effectiveness of dynamic content such as video in their apps, he said. "Companies can see if playing (the video) for seven seconds results in a higher bounce rate, or if [cutting] it to five seconds keeps the users on the site. So they can decide, 'Let's use the shorter version, or don't use it at all next year.' "
Another shifting term is that of user experience testing. Many organizations try to test their applications based on how users engage with them. Today, user experience has become contextual, so how a user engages with an application depends on the device with which the user is working. "An airline app is probably most used on a phone, as you're running to the airport. A tablet or laptop might be more used for visiting websites and shopping," Lounibos said.
Taking that a step further into the "Internet of Things," he envisioned a use case where programmers are building applications for sensors on tractors. "The software needs to monitor the soil and the weather to assess how the tractor is performing, and what other factors might be affecting its performance," he said.
Another key piece of planning for application spikes is load testing. Kevin Surace, CEO of testing company Appvance, said, "Modern applications make you rethink the user interface." By running tests from the user experience all the way to the back end, users "can dig out issues before you go to production, with simulated users," he added.
David Jones, field technical support manager at Compuware APM, said in a recent webinar that organizations "need to look at a 360-degree approach to load testing and performance testing. You need to look at the data center, the servers, the app calls between tiers, to see where resources are being consumed."
In the webinar, Jones talks about event readiness. "Why are we testing? What are we testing? What are we looking to prove? We may think it's about scale, but the business, IT operations and developers must be aligned," he said. And testing is the way to do that.
Secondly, he suggested that organizations "focus on the transactions that impact perception, revenue and risk." That means if your application is slow to respond, the customer's perception of how you do business is affected, and so is your revenue. Risk is something organizations need to assess in order to determine how much they can stand without hurting the business. So, getting back to an earlier point, are two seconds of latency tolerable? Or will they drive potential customers away and affect the bottom line?
By doing this sort of testing, SOASTA's Lounibos said, companies "will get an understanding of their users in 2014 and move the results into the design phase of the next version of the app."
Compuware's webinar put a spin on England's WWII slogan to address the approaching online holiday shoping rush: "Keep calm… There's still 3 months."
To learn more about preparing for the holiday traffic spike, view the Compuware webinar here.