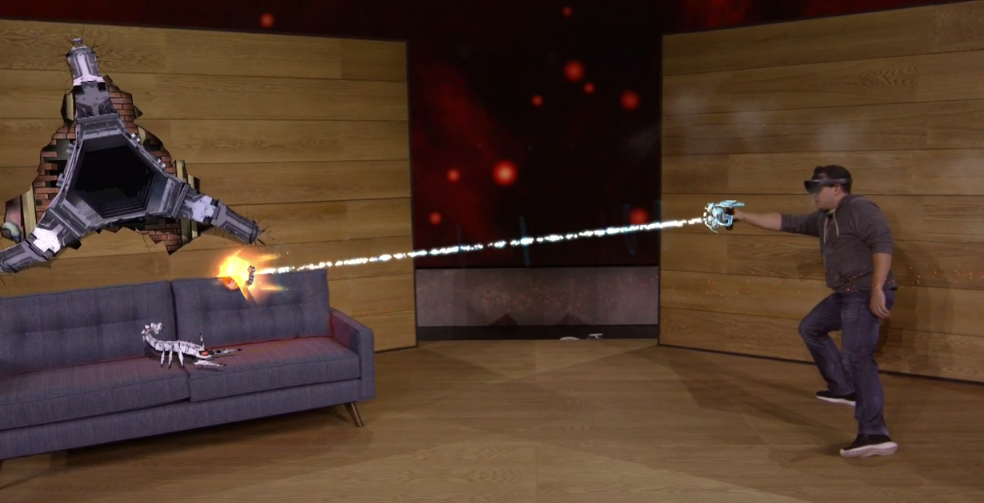 Microsoft is looking for developers to create new experiences for its augmented reality headset. The company announced today at its Windows 10 device event that it is starting to take applications for the HoloLens development kit, which will be made available during the first quarter of 2016.
"HoloLens is the only device that mixes holograms into our world, opening up these entirely new computing experiences," said Terry Myerson, executive vice president of the Windows and devices group at Microsoft. "I just can't wait to see what Windows developers are going to do with holographic computing."
(Related: Microsoft looks for HoloLens developers in academia)
The company showed off what it has been working on since the HoloLens was first announced in the beginning of the year. One was Project X Ray, a mixed-reality robot invasion game that can be played in any room, which demonstrated the ability to have holograms interact with the environment and other holograms, but also showed off a new capability: wearable holograms. Microsoft displayed how users can interact and touch wearable holograms by using them as a weapon or a shield in the game.
In addition, the company announced Windows 10 will be coming to the Xbox this holiday, the new Surface Book laptop designed by Microsoft, the Surface Pro 4, new Lumia phones, and the Microsoft Band 2.
"We are making great progress toward our aspiration we shared in January: to more people from needing Windows to choosing Windows to loving Windows," said Satya Nadella, CEO of Microsoft. "We now begin a new chapter of Windows 10 with new devices for Windows 10 from us and our partners."
More information is available here.