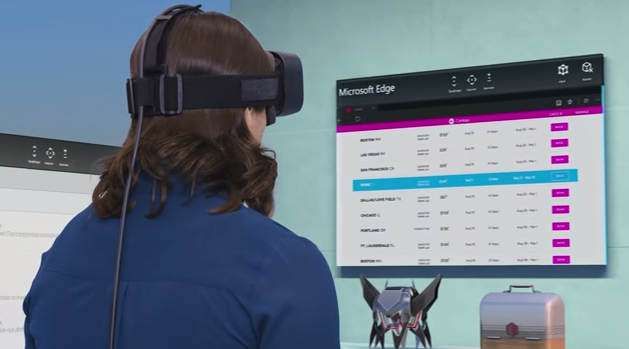 Windows 10 PCs will be immersed in virtual, artificial and mixed reality next year. Microsoft announced plans to release an update to Windows 10 that would bring Windows Holographic shell, mixed reality apps and universal Windows app to mainstream Windows 10 PCs.
The news follows Microsoft's recent commitment to bring Windows Holographic to devices of all shapes and sizes. "The market for virtual reality devices is expected to be 80 million devices per year by 2020. However, many of today's devices and experiences do not work with each other, provide different user interfaces, interaction models, input methods, peripherals, and content," wrote Terry Myerson, executive vice president of the Windows and Devices Group at Microsoft, in a blog post.
With Windows Holographic, users will be able to run 2D and 3D apps at the same time, control view with six degrees of freedom, multitask in mixed reality, and run the Windows Holographic shell.
In addition, the company announced it is working with Intel to develop a PC and head-mounted display specification for mixed reality. Microsoft plans to release the first version of the specification at its Windows Hardware Engineering Conference in December.
"Our shared goal is to enable our hardware partners to build a broad range of devices for the mainstream consumer and business market," Myerson wrote.