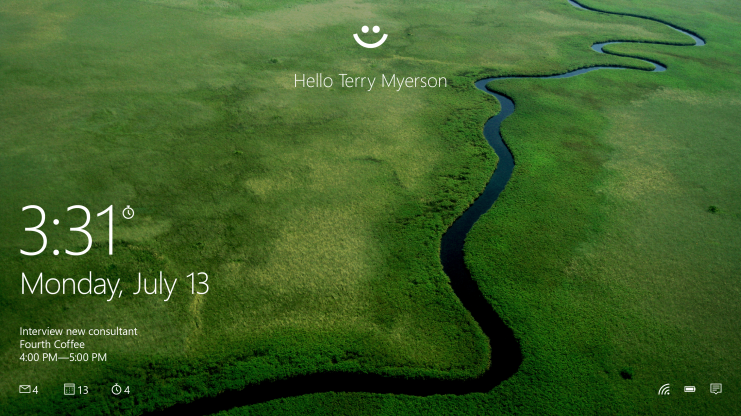 Microsoft wants to kill the password in Windows 10.
As part of its upcoming operating system release, Microsoft announced it will introduce a new biometric security technology called Windows Hello, allowing users to unlock their Windows 10 devices by scanning their face, iris or fingerprint. Windows 10 PCs will ship later this year with Intel's RealSense 3D camera to enable infrared facial and eye scans, and Microsoft is working with manufacturers to support devices with existing fingerprint scanning hardware.
Microsoft corporate vice president of operating systems Joe Belfiore introduced Windows Hello in a blog post, explaining how the "enterprise-grade security" mechanism eschews traditional passwords and PINs in favor of biometrics to log into devices and authenticate applications and enterprise content as well as Microsoft websites and services.
Along with Windows Hello, Microsoft is also rolling out "Passport," a new single sign-in programming system for developers and IT managers. The system allows IT to manage users authenticating accounts on their websites and applications without sending passwords. Passport will also offer integrations with thousands of Azure Active Directory services at launch.
"Windows 10 will ask you to verify that you have possession of your device before it authenticates on your behalf, with a PIN or Windows Hello on devices with biometric sensors," wrote Belfiore. "Once authenticated with Passport, you will be able to instantly access a growing set of websites and services across a range of industries: favorite commerce sites, e-mail and social networking services, financial institutions, business networks, and more."
Windows Hello and Passport are both opt-in services. Users, developers and enterprises can choose whether to enable the biometric authentication on Windows 10 devices or use traditional passwords and PINs.
The video below gives an introduction and tutorial on Windows Hello biometrics and the Passport system: