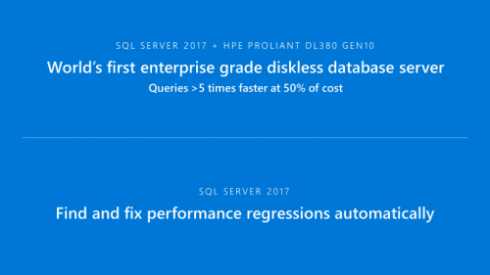 With new advances to its SQL Server 2017 solution and Azure data services, Microsoft says it is forming the ultimate hybrid data platform. The company made new on-premises and cloud announcements at PASS Summit 2017 today.
"Microsoft's guiding principle has been to build the highest performing, most secure, and consistent data platform for all your applications across on-premises and cloud. By joining us on this journey, you can build upon your investments in SQL Server to expand the scope of your role in your organization, from database systems to advanced analytics and artificial intelligence," Rohan Kumar, general manager for database systems engineering at Microsoft, wrote in a post.
SQL Server 2017 is a relational database management system that uses artificial intelligence to help users run production workloads on Linux, Windows and Docker. "SQL Server 2017 delivers a mission-critical database with everything built-in, on the platform of your choice. And, it can unlock seamless DevOps with Docker Enterprise Edition containers, bringing efficiency and simplicity to your innovation," Kumar wrote. The latest features include graph data analysis, advanced analytics using Python and R, Adaptive Query Processing, and Automatic Plan Correction.
The company also revealed a sneak peek of its SQL Operations Studio at PASS. The studio is a free, lightweight tool for "modern database development and operations on Windows, Mac or Linux machines for SQL Server, Azure SQL Database, and Azure SQL Data Warehouse," according to the company. It includes smart T-SQL code snippets, customizable dashboards and support for popular command line tools.
The Azure SQL Database Managed Instance and Azure Database Migration Service enable users to lift and shift on-premises SQL Server workloads. Both services are available in a private preview.
Other announcements included the Azure Analysis Services Scale Out feature for setting the number of replicas for Azure Analysis Services, Attunity Replicate for speeding up migrations from various database systems, and the latest version of Power BI Report Server