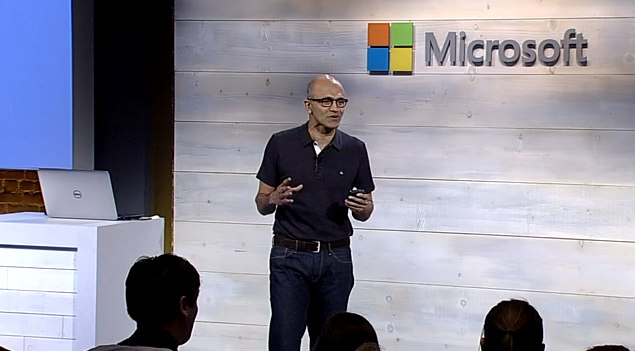 Microsoft announced new features, services and partnerships for its Azure cloud platform at a press event today.
The company unveiled a new Azure Marketplace of virtual machines, apps and services for customers to browse and purchase, and for ISVs and startups to help monetize their businesses. It also announced a partnership with Cloudera support for the CoreOS Linux distribution, a new Cloud Platform System, a new G family of virtual machine sizes and the Azure Premium Storage service.
"We want to empower every individual and organization to thrive in this mobile-first, cloud-first world," said Microsoft CEO Satya Nadella. "It's not about the mobility of the device, but it's about the mobility of the experience you as individuals interact with in your life and your day-to-day."
Coming off its recent partnership with Docker, Microsoft also announced Azure support for CoreOS, the container-optimized Linux distribution. CoreOS marks the fifth Linux distribution supported in Azure in addition to Ubuntu, CentOS, Oracle Linux and SUSE.
"We think this container-based approach helps dramatically with the creation of next generation applications and enables them to be deployed more efficiently," said Scott Guthrie, EVP of Microsoft's cloud and enterprise group.
After announcing the Azure Marketplace and CoreOS support, Guthrie then brought out a surprise guest—Cloudera cofounder Mike Olson—to reveal a partnership between the two companies to deliver Cloudera on Azure.
Olson explained how over the past eight months, Cloudera has combined its back-end tooling with Microsoft UIs and exploratory tools to deliver more value on Big Data. Cloudera for Azure, available through the Azure Marketplace, offers customers using Cloudera's Hadoop management services to leverage Azure to deploy and analyze Big Data clusters.
Cloudera customers can now spin up Azure virtual machines and analyze Big Data using dashboards in Microsoft's Power BI suite with natural language queries, and through Office 365 and Excel integrated with the Cloudera Impala parallel processing engine.