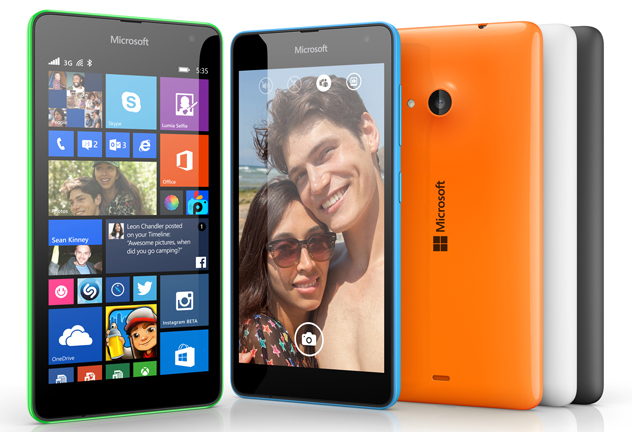 Microsoft has launched its first Lumia phone without the Nokia branding. Lumia 535 comes with a 5-inch screen, 5-megapixel front-facing camera, a rear-facing camera, and an integrated Microsoft experiences. It comes preloaded with Windows Phone 8.1 and the Lumia Denim Update.
"Lumia 535 comes with our '5x5x5' proposition," said Jo Harlow, corporate vice president for phones at Microsoft. "Innovation should be available to everyone, and we are doing this through the very best integrated Microsoft services included and out of the box, a 5MP wide-angle front-facing camera, and a spacious 5-inch qHD screen—all at an affordable price."
The Lumia 535 is available in 3G Single SIM and 3G Smart Dual SIM.
Hortonworks and New Relic file to go public
Both enterprise Apache Hadoop provider Hortonworks and software analytics company New Relic have announced they have publicly filed for registration with the U.S. Securities and Exchange Commission (SEC) for a proposed initial public offering.
It is still undetermined how many shares will be sold or what the price range of the proposed offerings will be. New Relic announced it will continue to list its common stock under the "NEWR" symbol, while Hortonworks hasn't announced any plans as of yet.
A road map to Symfony 3.0
SensioLabs has laid out its plans to Symfony 3.0, its set of PHP components and Web app framework.
"Some developers and most project managers are afraid when major versions of their favorite open-source libraries are announced; probably because major versions are associated with backward incompatible changes," wrote Fabien Potencier, project manager of Symfony, on the product's blog. "The Internet evolves at a very fast pace, and if we cannot adapt Symfony fast enough, it will become irrelevant faster than you can imagine."
According to the road map, Symfony 2.7 is expect to be released in May 2015, and instead of moving on to 2.8, the company plans to move straight to 3.0 with the expected release in Nov. 2015.
Symfony 3.0 will fix some architecture mistakes, be more decoupled, be more reusable and be more standard, according to Potencier.
Microsoft announces RemoteIE preview for Azure RemoteApp
Microsoft has announced the preview availability of RemoteIE via Azure RemoteApp for developers to test Internet Explorer on the Windows 10 Technical Preview from desktop and mobile devices.
Developers can run the latest version of Internet Explorer on the Windows 10 Technical Preview remotely, controlling the preview from Android, iOS, OS X and Windows. Atop the Azure RemoteApp preview, RemoteIE previews builds on the Windows Server Remote Desktop Services infrastructure, enabling developers to run Windows applications on a variety of devices from the Azure cloud, including access to F12 developer tools.
More information on RemoteIE is available in this blog post from Internet Explorer program manager Anton Molleda.
IncrediBuild releases cloud-based development solution for Microsoft Azure
Software development and continuous delivery provider IncrediBuild has announced the availability of IncrediBuild for Microsoft Azure.
The new version of IncrediBuild for Microsoft's cloud platform adds Azure-based cloud resources and increases build-related compute power, enabling fast and transparent deployment of agents into the Azure environment. Once the user selects the cloud setting, IncrediBuild's distributed computing technology executes them in parallel, using the optimum number of CPUs on Azure.
More information on IncrediBuild for Microsoft Azure can be found here.