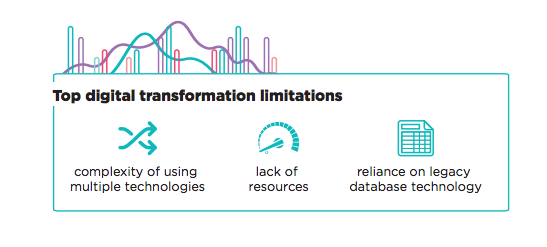 Despite all the hype around digital transformations, today's enterprises still feel they're at risk of being left behind by their industries, according to new research from Couchbase. The research puts a microscope on whether data strategies today are supporting customer engagement and experience.
According to data from Couchbase's global survey released today, senior IT leaders are investing heavily in digital transformations, but still 54 percent believe their company will fall behind innovation and may fail in under five years.
Eighty-nine percent of enterprises feel that their industry is being disrupted by digital technology, even after spending an average of $5.7 million on digital transformations in the last year, according to the data.
"Our study puts a spotlight on the harsh reality that despite allocating millions of dollars towards digital transformation projects, most companies are only seeing marginal returns and realizing this trajectory won't enable them to compete effectively in the future," said Matt Cain, CEO of Couchbase.
Cain added that 87 percent of IT leaders are concerned with their revenue dropping if they don't ramp up customers' experiences, and how it is critical for enterprises to focus on projects designed to increase customer engagement. Database technology is one way enterprises can leverage data to its full potential across all their platforms, and it can help deliver responsive experiences that "customers are demanding today," he said.
Other factors are impacting enterprises' digital transformations, such as the complexity of multiple technologies or the lack of resources as well as the reliance on today's legacy database technology.
IT leaders cited specific issues with legacy databases that could lead to digital projects underperforming including a lack of agility with developing new applications, the inability to scale applications, and wait time for databases to take advantage of data. And, only 19 percent of respondents feel that their current database can handle the task of supporting today's modern technologies like virtual reality, augmented reality, and IoT.
"If all enterprises want to thrive, they need the confidence, ability, and technology to reinvigorate the customer experience," said John A. De Goes, CTO of SlamData, a data analytics company. "They need a revolution in the way they use data, to transform the customer experience and provide a data-driven way of truly engaging with end-users."