In last week's episode, "Adult Content," we saw the Pied Piper team trying to reclaim what was rightfully theirs: their algorithm that End Frame stole (even though Richard basically handed it to them.) "You are stealing it all wrong," an upset Richard declares.
Russ Hanneman struggles with the fact that he is no longer a billionaire, having only $986 million, so he wants End Frame and Pied Piper to merge. But of course Richard and his team aren't going to stand for that. They hack End Frame (is it technically hacking if Gilfoyle found a Post-It from End Frame's office with the login credentials on it?) and try to poach its proposed deal with the porn company Intersite. The show ended with Intersite declaring a "bake-off" between Pied Piper and End Frame. May the best compression algorithm win!
(Related: A recap of episode 6)
Episode 7 ended with what seemed like a great setup for episode 8, but unfortunately the season stuck with its ongoing theme of Richard having no common sense and the team trying to clean up his mess.
With the episode titled "White Hat/Black Hat," I expected a crash course in hacking, or at least some serious hacking, but the episode disappointed. Instead, I feel like the title was a reflection of Richard. He is a white hat, but he needs to be a black hat and start thinking about how people are going to try to take advantage of him. It starts with Richard discovering that End Frame's security engineer Seth got fired.
"What are we going to do about Seth?" he asks. Good question, but maybe Richard should have taken Dinesh and Gilfoyle's advice in the first place and done nothing.
"He is getting fired for no reason, and I kind of feel bad for the guy," said Richard. "He is probably pulling his hair out somewhere wondering where he screwed up, but he didn't screw up and he will never know that for the rest of his life."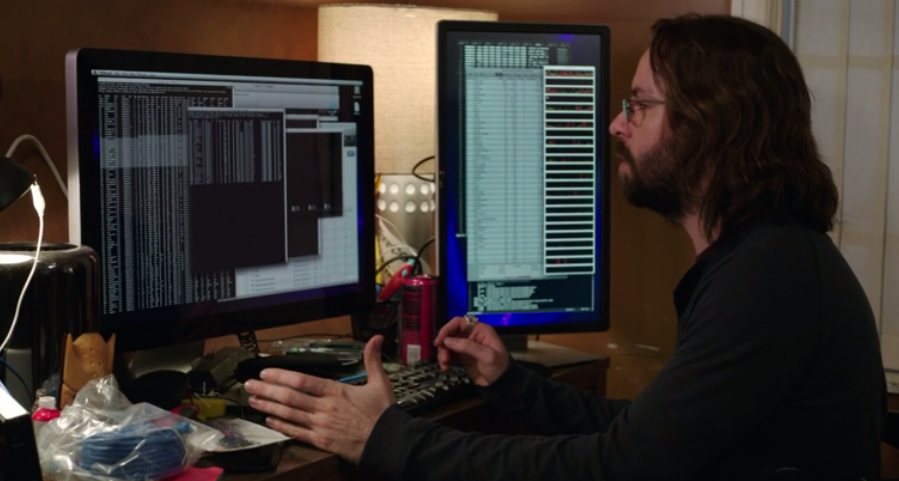 Instead of listening to Gilfoyle and Dinesh and just forgetting about it, Richard can't help himself and makes the mistake of meeting with Seth not once, but twice. Each time Richard doesn't do anything to rectify the situation and only makes matters worse. Seth ends up threatening to hack into their entire system. With the bake-off with End Frame coming up, Richard gets extremely paranoid that Seth is going to mess it all up for them.
"Seth is out there, lurking," says Richard. "Just lurking in the dark net ready to pounce like an Internet panther."
Pied Piper does end up getting hacked, seemingly, but not by Seth. Russ accidently puts his giant bottle of tequila on the delete key of one of the computers and ends up deleting thousands of hours of Intersite's content, causing the Pied Piper team to automatically fail the bake-off, bringing them back to where they started.
"Did we delete over 9,000 hours of your premium content? Yes we did that and that is bad certainly," begins Richard. "But the way we did it, see, our compression is so incredibly powerful that we were able to delete all those files at a rate that until now was unthinkable, if we are considering just raw speed. So just bare in mind when making your final decision: Had End Frame accidently put a tequila bottle on their delete key, I guarantee they would have struggled to delete half the amount of files that we did."
Odds & Ends
In an attempt to cover up his mess with Nucleus, and to put the blame on someone else if and when the platform fails, Gavin hires back Dr. Davis Bannercheck as the head Nucleus. "You will get the credit and the glory," Gavin tells him. "There is a chance no one will know I had anything to do with it at all." And while it seemed like Gavin may have found his out, Bannercheck quits after meeting with the Nucleus team. "According to security, he entered the building at 9:13, he met with the Nucleus team for 11 minutes, then used his key card to exit the building," Gavin's assistants tell him.
Richard inadvertently makes an inappropriate joke to Carla, calling her scrumptious when he was really trying to compliment her on doing a good job with their Scrum board. "I mean not you. I mean you could, you are," he stammers.
Jian Yang creates an app that tells parents where the least crowded playgrounds are, but after Erlich realizes it could also attract pedophiles, they pivot the app into something that allows users to locate and avoid smokers. They almost impressed Monica's boss Laurie, but then Jian starts smoking in their office. Classic Jian Yang.
Gilfoyle and Dinesh actually seemed to get along this episode.
Are we ever going to meet Pied Piper's new employees, or are they going to continue to be in the background?