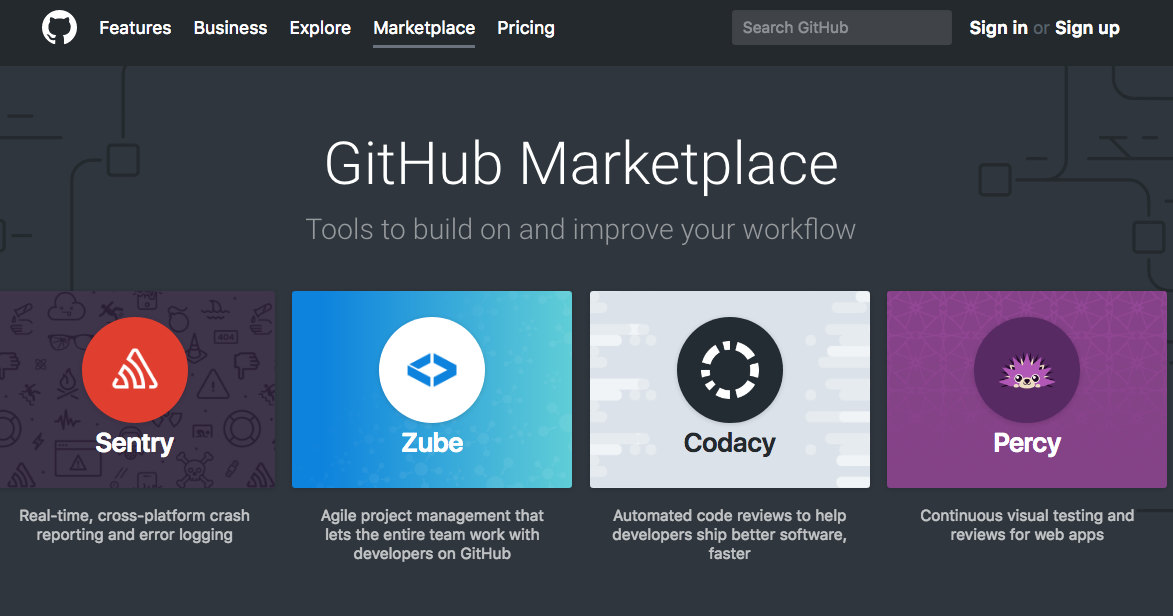 GitHub is adding more tools so developers can customize their workflow. The organization announced the GitHub Marketplace, GitHub Apps (formerly Integrations), and the GitHub GraphQL API, along with a few other platform updates.
The GitHub Marketplace is a new way for developers to find apps that they can use in their development workflow. More than a dozen integrators have apps in GitHub Marketplace, like Travis CI, Waffle, ZenHub, Codacy, and more coming soon, according to GitHub. GitHub also announced GitHub apps, which is now out of pre-release. The GitHub Apps take actions through an API, with no user impersonation or user seat required.
Also, the GitHub GraphQL API is out of its Early Access program, which means developers can create their own tools with the API, which is what was used to build GitHub. In addition to these big releases, GitHub also announced a new Git and GitHub integration for Atom, and it announced the new GitHub Desktop Beta is now available. More information can be found here.
Tails reaches release candidate status
The first release candidate for the upcoming Tails 3.0, a Linux-based operating system, is out. It may be ready for stable release soon, but in the meantime, the release candidate introduces a few big changes. Notably, the operating system is moving to a new base, Debian 9 "Stretch."
Also, the Debian kernel upgrades to 4.9.0-3 in this release, and it is based on the Linux kernel 4.9.25. The other changes includes important security fixes, an upgrade to Tor Browser 7.0a4, and Tails migrated from Icedove to Thunderbird for email. Other bug fixes and small updates were introduced to this release as well. More information can be found here.
block.one developing open-source software for EOS
block.one, the blockchain technology for businesses, today announced it is developing open-source software for EOS. EOS is a new blockchain operating system which will support commercial decentralized applications. The software will use asynchronous communication of smart contracts and parallel processing, which will support applications and transactions on the blockchain.
"With EOS, we are building software to allow businesses to build their applications using an architecture similar to modern website frameworks. This would allow a whole range of businesses to use the blockchain, similar to the way that the computing era exploded after Microsoft Windows enabled developers to build interoperable software," said Brendan Blumer, block.one CEO. "Corporations that build applications on top of EOS can take advantage of the security, authenticity and transparency of the blockchain to build and support global-scale decentralized projects."
The software behind EOS will also allow applications that don't require blockchain users to pay for every transaction. This will allow users to create freemium applications. More information on block.one can be found here.