It's never really tackled in Star Wars: are Astromech Droids open source? While we may never get to see R2-D2's internal code, a French company called Blue Frog Robotics fired up an IndieGoGo campaign yesterday that seeks to build an open-source companion robot.
Blue Frog Robotics, a company founded last year by French roboticist Rodolphe Hasselvander, has dubbed the proposed robot "BUDDY," and is targeting the home market with the device. BUDDY will include telepresence capabilities, and will be able to look up information online through voice commands.
Jean-Michel Mourier, CTO of Blue Frog Robotics, wrote in an email to SD Times that, "About 80% of BUDDY will be open source. Today, all of the major components are open source: the brain of the robot, which controls navigation, facial expressions, object and voice recognition, interfaces that control interactions, learning, making connections as well as domotics. In addition, elements of BUDDY's mechanics are open so that developers can build accessories."
(Related: Poppy, another French open-source robot project)
Buddy is focused on open source and popular development tools, such as Unity. As a developer platform, the robot is designed to be easy to use. Mourier wrote that, "The IDE for BUDDY is Unity 3D. We wanted to work with Unity 3D, the popular video game development platform and one that's very relevant for robotics, for a number of reasons. Among these is that there are more than one million Unity developers in the world today, so the opportunity for the creation of a wealth of BUDDY applications is great. In addition, Unity 3D is an extremely user friendly development environment. This is important to us because we want to embrace beginner developers, as well as the expert. And Unity 3D provides this."
There's also support for a number of programming languages, wrote Mourier. "In terms of programming languages, the BUDDY development platform supports the primary industry languages (which can also be imported as libraries), such as: Python, C++, C, C#, Java and Javascript. In addition, our use of OpenCV with its extensive algorithms and which is also supported by a large global community, gives BUDDY developers unparalleled versatility," wrote Mourier.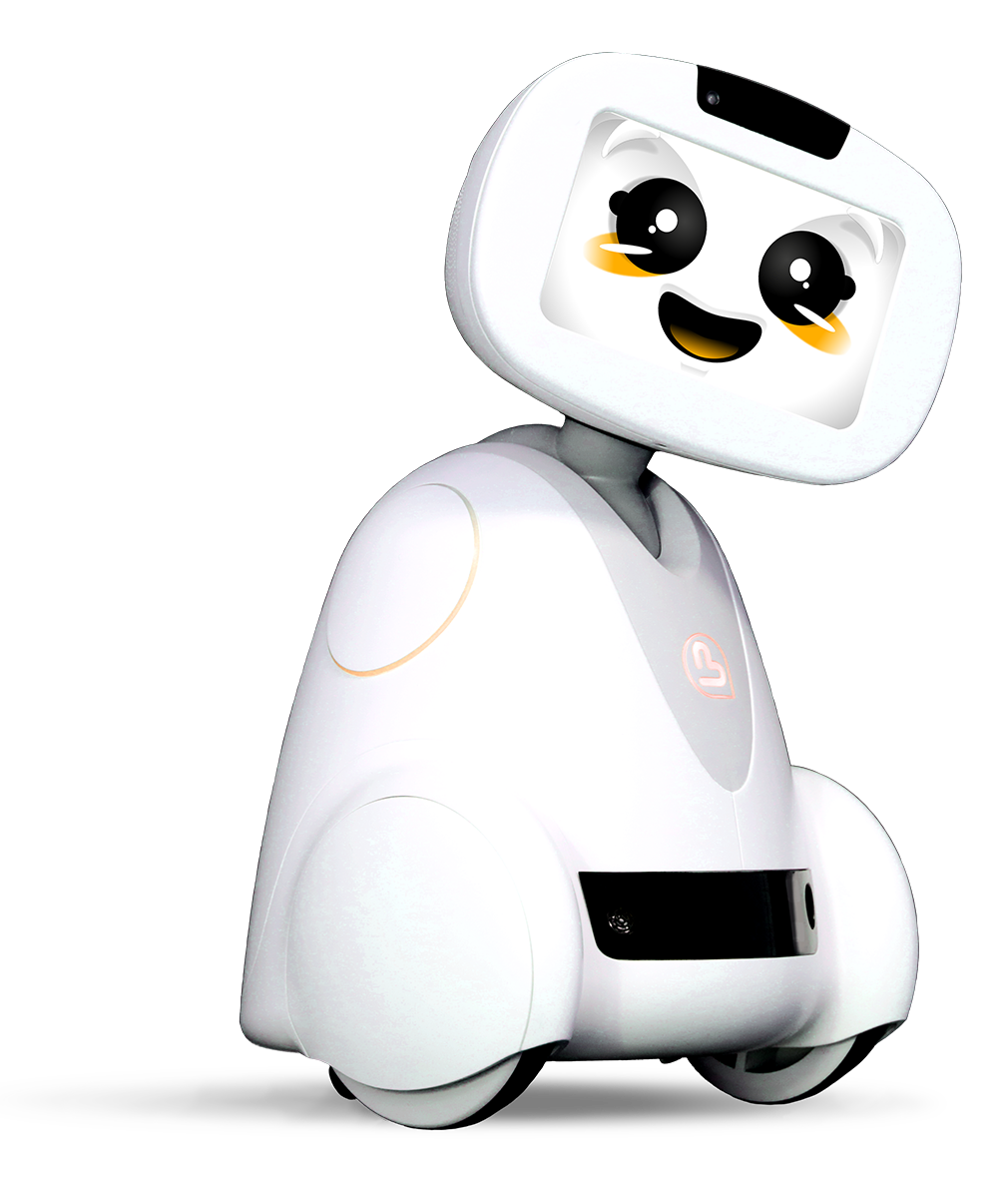 Of course, having a robot following you around the house can either be extremely cool, or extremely creepy, depending on the attitude of the robot. Wrote Mourier, "We have been extremely sensitive to this issue from day one. Before any work was begun, we conducted a number of focus groups with children–ages 4-8, and with seniors, from 65-75 years of age, to help us determine how to develop a BUDDY that would be friendly and not intimidating. We learned through the focus groups that the general population is not quite ready for a robot face that looks too human. So we stayed away from that. All of the feedback we have received thus far has been positive in terms of BUDDY's appearance. It's also important to note that BUDDY is always under the control of a human."
That's why the Blue Frog Robotics team points to R2-D2 as the inspiration for BUDDY. "There was something about R2-D2 that made people feel affection for him," wrote Mourier. "That's why he influenced and inspired BUDDY."
The IndieGoGo for BUDDY is online here.