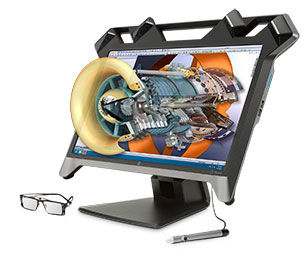 HP has announced a new set of computer monitors with interactive virtual reality displays. The new HP Zvr virtual reality display allows users to rotate, manipulate and navigate virtual-holographic 3D images.
"HP's new displays complement our goal of delivering new technologies that maximize the visual experience and change the way people work and create," said Jun Kim, vice president and general manager of PC displays and accessories at HP. "HP displays feature performance, innovation, reliability and outstanding image accuracy that we believe will transform how customers connect and interact using technology."
The HP Zvr is expected to be available by this spring.
In addition, the company announced the HP Z27s, Z24s 4K and HP Z27s 5K displays designed to increase productivity, and the HP Z234c, ENVY 34c, EliteDisplay S270c and Pavilion 27c curved displays designed to enhance visual perception and audio experiences.
Bring Your Own Device movement booming
A new study by Tech Pro Research has revealed that companies are warming up to the idea of letting employees bring their own devices to work. The study revealed that 74% of organizations allow or plan to allow employees to bring their own devices. The other 26% do not plan to permit the use of personal devices due to security concerns, IT support concerns, lack of control over hardware, or absence of device standardization.
In addition, the report revealed that organizations are looking into implementing wearables and the Internet of Things into their BYOD plans.
The full report can be found here.
New CSS framework released
Everything.io, a technology company, has announced the release of Kickstart, a new CSS framework for building websites. Kickstart is designed to provide fast performance, extensibility and customizable themes. It is available for HTML as well as Gulp and Rails.
"Kickstart began as 'Kickstrap,' a tool to extend [Twitter] Bootstrap," according to the framework's website. "The goal was to create a layer where users could write their own customizations and add community extensions. This layer would be separate from the Bootstrap core, allowing Bootstrap itself to stay up to date without affecting the project's customizations. In the third version of Kickstrap, Bootstrap has been removed entirely, hence the renaming as 'Kickstart.' Kickstart 3 is now its own CSS framework."