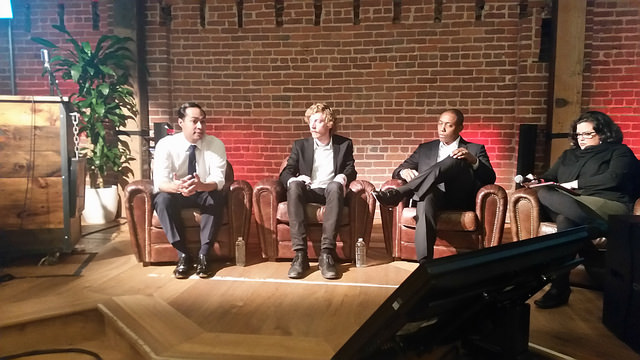 The "digital divide" may seem like a foreign concept in a world where even young children have a smartphone, but just having a phone is not enough, said United States Secretary of Housing and Urban Development Julián Castro. He was in Silicon Valley yesterday to discuss the ConnectHome program: an effort to bring home broadband access to 750,000 low-income American families living in public housing.
"This is fundamentally about sparking greater opportunity in the lives of families of modest means and ensuring that 21st century America remains the undisputed land of opportunity for all people," said Castro, speaking at GitHub's headquarters in San Francisco.
(Related: Intel invests in getting women and minorities into technology)
"What we've found is that more than half of low-income families are not connected to the Internet, so ConnectHome [is making] sure the Internet follows young people home, and that all families are able to avail themselves of 21st century tools in this 21st century economy," he added.
Castro, who is a possible vice presidential candidate for the Democratic party, was joined by GitHub's CEO and cofounder Chris Wanstrath, and Chike Aguh, chief programs officer for EveryoneOn. Aguh's non-profit specializes in connecting low-income families with discounted broadband on city-by-city basis.
Aguh said that EveryoneOn is working with HUD to ensure kids aren't limited to phones or school for Internet access. "We work with national partners to make sure we have Internet services that are affordable to families. Then we work on the ground with communities. We come to this because we believe no matter who you are, you should have access to the Internet and the opportunities it brings," he said.
While being the nation's Secretary of Housing and Urban Development may sound like a powerful position for the ex-mayor of San Antonio, Castro said his office is limited in the way it can encourage broadband service discounts. In this regard, he said that partnering with non-profits and for-profits is essential.
"We're trying to…bring forward a partnership approach [and] move straight forward; EveryoneOn are the key to this," said Castro. "The fact is that in implementing ConnectHome, we are limited in terms of what we can do. It takes third-party non-profits to bring the parties together."
For GitHub, bridging the digital divide means offering more than 500,000 free private accounts to low-income families. Wanstrath said he hopes to hire from the ConnectHome user base in the next five years. "The key is, if you want to be a programmer, you need the Internet," he said.
"You need a computer. There are still way too many kids who don't have access in this country. We have employees, customers and users who've had amazing opportunities, and we want to help give that opportunity to as many people as we can, even in our own backyard."
He went on to promise his employees would contribute more than 2,000 hours of volunteer time over the next two years, teaching programming and other technical skills to the communities they live in. Castro praised GitHub for its commitments, which Wanstrath doubled on the day of the secretary's visit.
"There is a conversation raging right now about the demographics of the workforce here. How do we ensure we have a Silicon Valley workforce that looks like the world?" said Castro. "How do we start including people from modest backgrounds and people of color? One way is to hire people who have lived in public housing, and many of them are people of color. If they have the chance to get savvy about the Internet and develop more technology skills to get them into this industry, that's a win for everybody. That's why what GitHub are doing makes a lot of sense."
But Castro also pointed out that more help was needed to continue to bridge the divide; most unconnected families are also without a computer.
"One of the needs we see clearly is for more devices. That's one of the things ConnectHome is looking for: more help with devices. We've identified that as a very particular need. A lot of people have a flip phone or smartphone, but that's not something you do your homework on. We need devices that can provide a fuller, more meaningful experience."
Aguh suggested that for US$2 million, all of the homes targeted with ConnectHome could be outfitted with a $90 device. He asked for Valley companies to help raise those funds.
To date, ConnectHome has brought Internet into the homes of between 175,000 and 200,000 publicly housed families. The end target for the project is to connect 750,000 homes within the next two years.