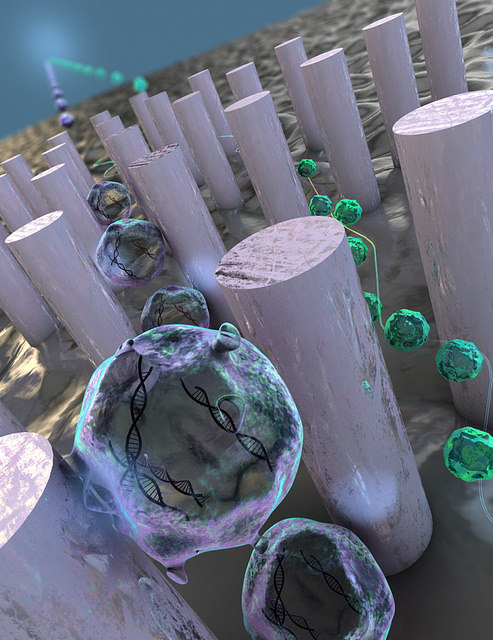 IBM this week announced that its scientists have developed a new lab-on-a-chip technology that can separate biological particles at the nano scale to help physicians detect things like cancer.
IBM said its team can separate bioparticles down to 20 nanometers in diameter, which is the scale of things like DNA and viruses. These particles can be reviewed to see if there are any signs of diseases, which will help patients who need to figure out what types of treatment they need to receive.
The goal of lab-on-a-chip technology is to shrink down a single silicon chip so that all of the processes necessary to analyze disease can be carried out as they would in a full-scale biochemistry lab, according to the company. Additionally, the IBM team is collaborating with the Icahn School of Medicine at Mount Sinai to continue to develop lab-on-a-chip technology so it can be tested on men who might have prostate cancer.
Kaspersky Lab's new bug bounty program
Kaspersky Lab today launched a bug bounty program with HackerOne so it can address software vulnerabilities and enhance its relationship with security researchers.
The bug bounty program will last for six months. During this first phase, Kaspersky will give out a total of US$50,000 in bug bounty rewards to security researchers. The researchers will look at products for consumers and enterprises, as well as Kaspersky Internet Security and Kaspersky Endpoint Security. More products and rewards will be included in the second phase of the program, according to the company.
"Our bug bounty program will help amplify the current internal and external mitigation measures we use to continuously improve the resiliency of our products," said Nikita Shvetsov, CTO of Kaspersky Lab. "We think it's time for all security companies, large and small, to work more closely with external security researchers by embracing bug bounty programs as an effective and necessary tool to help keep their products secure and their customers protected."
Jama Software launches partner alliance program
In an effort to expand Jama Software services, Jama has formed the Jama Alliance, a new program that aims to bring together technical partners, service providers, and resellers to remove barriers to product development. The program will offer tools and solutions to provide value to customers, as well as reduce cost and risk.
"All technology innovation is continuous now," said Eric Nguyen, vice president of demand generation at Jama Software. "The Jama Alliance is designed to support innovation across technology developers from various origins. By making Jama available to upstarts and partners, we can help them accelerate their innovation when they find market viability."
NSF invests in improving scientific software
The National Science Foundation is on a mission to improve scientific software development maintenance and education. The organization has announced two major awards totaling US$35 million over five years, as well as the establishment of the Scientific Software Innovation Institutes. The money will go to the Molecular Science Software Institute and the Science Gateways Community Institute.
"The institutes will ultimately impact thousands of researchers, making it possible to perform investigations that would otherwise be impossible, and expanding the community of scientists able to perform research on the nation's cyberinfrastructure," said Rajiv Ramnath, program director of the Division of Advanced Cyberinfrastructure at the NSF.