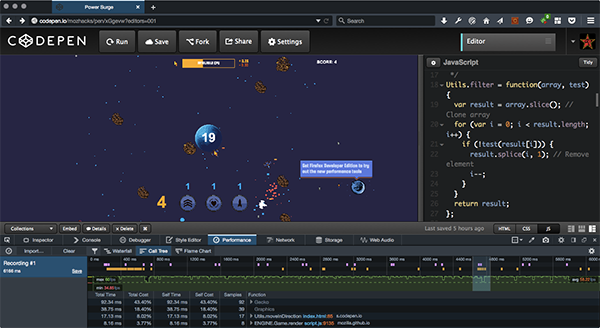 Mozilla has updated its developer browser, Firefox Developer Edition, with new performance tools designed to help developers build interactive websites and Web apps.
The new performance tools give developers a deeper understanding into how their apps, websites and games perform. The tools can be found under the performance tab.
In addition, the performance tab features a new timeline that includes waterfall view, call tree view and a flame chart view.
Other updates include new convenience features, network monitoring improvements, CSS document integration, improved inspector layout, and additional bug fixes.
More information is available here.
CA Technologies acquires Grid-Tools
CA Technologies has announced another acquisition to extend its DevOps portfolio and enable automated software testing. The company has acquired Grid-Tools, a provider of enterprise test data management, automated test design, and optimization software solutions. According to CA Technologies, the acquisition will provide greater test coverage, fast test creation, and repeatable test execution while reducing time and resources.
"Our customers have seen dramatic reductions in release test cycles and time required to fix defects while increasing quality of their applications," said Huw Price, cofounder of Grid-Tools. "The combination of CA Technologies and Grid-Tools provides enterprises with a strong option to bring testing to the next level by removing bottlenecks in their software development life cycle."
Red Hat Software Collections 2 now available
Red Hat has announced the latest installment of its open-source Web development tools, dynamic languages and databases. Red Hat Software Collections 2 comes with support for multiple language versions; more than 10 new developer collections such as Python 3.4, PHP 5.6 and Passenger 4.0; updates to already-included collections; and containerized applications.
"As developer requirements grow across the application ecosystem, especially with the rise of cloud-native and composable applications, simply having access to the latest tools is not enough," said Jim Totton, vice president and general manager of the platforms business unit at Red Hat. "These tools must also be supported so that the resulting applications can be deployed into production with confidence."