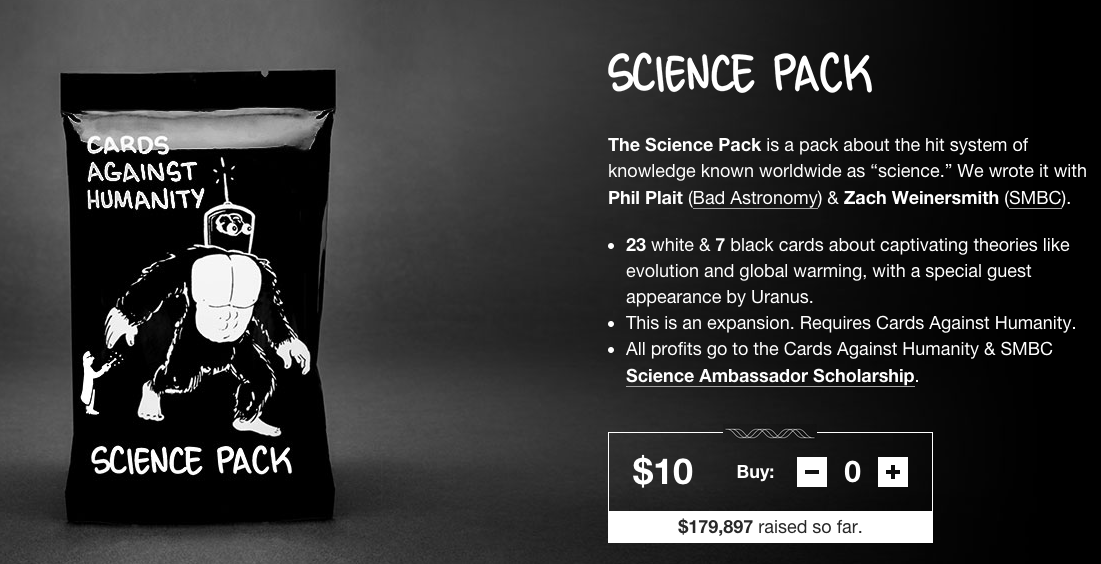 Cards Against Humanity is trying to increase diversity in the technology industry. The card game has announced it is releasing an expansion to fund full-ride scholarships for women looking to get their undergraduate degrees in science, technology, engineering and mathematics (STEM).
"Women are underrepresented in science, tech, engineering and math, and we felt like the funding from this pack could have the greatest impact by making it possible for more women to get an education in those fields, and by giving them a platform to share their work and their passion for science," said Josh Dillon, co-creator of Cards Against Humanity.
All profits from the new expansion, called the Science Pack, will go toward the Cards Against Humanity Science Ambassador Scholarship. Applications are expected to be open for the fall 2016 school year, and will be reviewed by a board of more than 40 women. Recipients of the scholarship will receive full college tuition for up to four years.
"We desperately need diversity in science because the alternative makes no sense," said Veronica Berns, Science Ambassador Scholarship board member. "So often girls are told in both overt and subtle ways that they aren't able to be good at math and science. With this scholarship, I'm excited to get to tell a passionate girl out there, 'Yes! What you are doing and dreaming is really great, and here's some help to get you where you want to go.'"
The Science Pack, written by Phil Plait and Zach Weinersmith, features 23 white cards and seven black cards about topics such as evolution and global warming.
"I want more women in STEM fields. Why? Because I am selfish," said Weinersmith, author of "Saturday Morning Breakfast Cereal." "I want all of my technology to be faster, smaller and stronger, and I want other people to go through the effort to make that happen. As long as women are underrepresented in science and technology, my next iProduct will be slightly lower quality. By funding a female student to become a scientist and a science ambassador, I hope to get just a little bit of my incredibly lazy wish."
More information is available here.