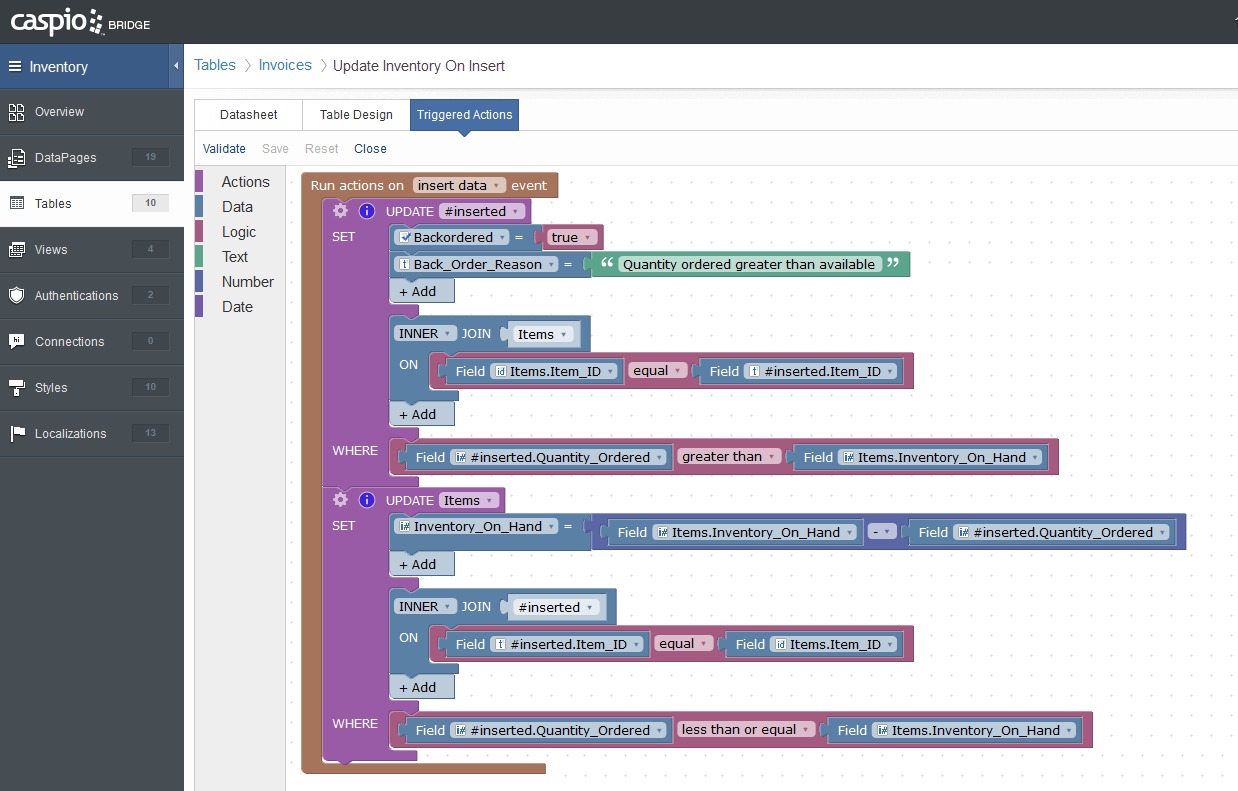 Caspio, the leading low-code platform for online database applications, today announced the release of Caspio 9.9. The release includes Triggered Actions, a low-code approach to automating application logic through a visual drag-and-drop interface.
Caspio enables non-technical business professionals to build custom web applications for capturing data, sharing information and automating business processes — quickly and at a fraction of the cost of traditional development methods.
The new Triggered Actions feature includes a set of visual interlocking blocks used to define application logic, data manipulations and complex calculations that execute on specified data events. For example, an inventory application could utilize Triggered Actions to automatically reconcile inventory on hand as new orders come in.
"Our company is extremely excited about Caspio's release of Triggered Actions. This feature is vital for automating process flows, notifications, change logs and many other possibilities," said Alex Fenech, Strategic Support Product Manager at SecurityNational Mortgage. "On the day of the release, we set up a notification system to create automatic job queues. Previously, multiple reconciliations were required and data was often incorrect due to human error. Now, this is all automated. This feature is a real game-changer that brings greater accuracy, speed and productivity to our organization."
"Business transformation strategies are demanding increasingly-sophisticated application functionality," said Caspio Founder and CEO Frank Zamani. "Caspio's 9.9 release demonstrates our commitment to meeting these requirements while retaining the intuitive interface that has made our platform so popular with business users."
Recently recognized by Forrester as a "Leader" in low-code development platforms for business developers, Caspio is embraced for its ease of use, speed to market and enterprise-grade features.