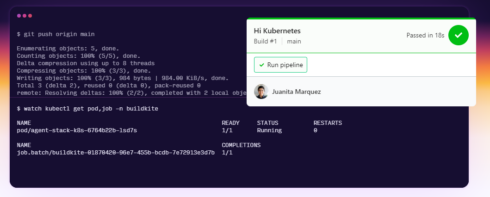 The CI/CD platform Buildkite has announced its first quarterly release of the year. 
With this release, the company announced the Kubernetes agent stack, bringing native Kubernetes support to the platform. Users can now run Buildkite CI/CD agents on Kubernetes, where they can take advantage of the expertise of their platform teams and see increased flexibility. 
This release also continues on with Buildkite's goal of offering a CI/CD platform that integrates with  companies' existing security tooling and does not access secrets or source code. 
Buildkite has added support for OpenID Connect, which is a security standard for identification in federated systems that builds on the OAuth 2.0 framework. The platform also recently achieved SOC 2 Type 2 compliance. 
The company has also added a flaky test tracker, which shows which tests are the least reliable in the Test Analytics UI. This will help reduce time spent checking for bugs and failures, and also reduce frustration among testers and developers.
Other new features include clusters that users can group agents into, a new usage breakdown to give more understanding over billing, and the ability to configure jobs to automatically retry based on termination signals. 
The company also announced plugins with Hashicorp Vault and GitLab, and released the Agent Environment API, which allows jobs to "inspect and mutate their environment" without needing to go through Bash. 
"Our latest releases show how we're thinking about Buildkite now and in the future," said Keith Pitt, CEO and founder of Buildkite. "We're building enterprise-grade features for everyone, whether you're a team of two or 10,000."
In addition, the company announced a new executive hire: Daniel Vydra as chief technology officer. He was previously CTO for RedBubble and brings nine years of senior engineering experience.