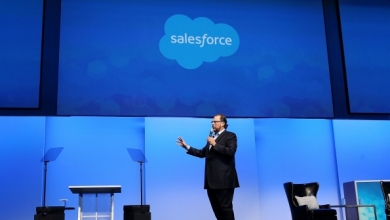 While Salesforce.com has spent years advocating for closer and tighter customer interactions, it was the 1-to-1 ratio that was highlighted primarily at Dreamforce this week. That 1-to-1 interaction of individual customer and individual employee was presented as the essential experience for the future of software.
"Salesforce is turning the Internet of Things into the Internet of Customers," said Marc Benioff, chairman and CEO of Salesforce. "The IoT Cloud will allow businesses to create real-time 1:1 proactive actions for sales, services, marketing or any other business process, delivering a new kind of customer success."
(Related: Salesforce takes over San Francisco)
That said, the Salesforce IoT Cloud will run Apache Kafka, and allow developers to push their IoT device data into said cloud. The company also announced that both Cisco and Microsoft will be customers of this new platform.
Benioff said that having IoT data inside a corporate CRM system will enable sales and customer service departments to have a full view of their customers. They'll be able to see sensor data and other such information to get a better picture of what's going on in the customer's world, both during support calls and during sales engagements.
Al Hilwa, program director for software development research at IDC, said that Salesforce is not to be ignored in this market. "You have to give it to Salesforce for taking the rocket science out of data science and bringing this technology to the masses. To be sure this has not shipped yet, but to have Microsoft and Cisco, companies that understand technology at the highest depth, be customers of this technology is an enormous endorsement," he said.
Salesforce's IoT Cloud will enter a pilot phase in early 2016. Pricing will also be made available at that time.