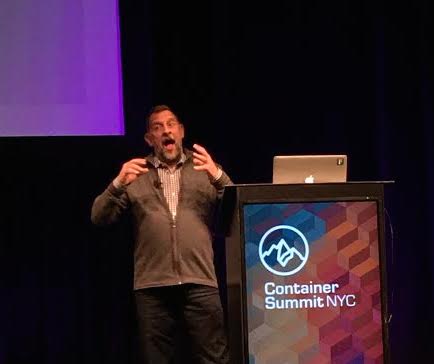 The rise of containers has already taken hold in the developer community, but the conversation in the enterprise is just beginning. Containers can be used as a driving force behind an organization's digital transformation, yet only 8% of enterprise developers are currently using containers for production release, according to Dave Bartoletti, principal analyst at Forrester, who gave the keynote at the Container Summit in NYC today.
Organizations are struggling with security, variable performance, integration with existing development tools and processes, management, and a lack of certification or digital structure when it comes to using containers in the enterprise, according to Forrester's research. Bartoletti explained that organizations are still trying to understand the ecosystem, figuring out how to monitor and manage containers, deciding whether to build or buy container-based development platform, and looking at the landscape of storage and security solutions available.
(Related: 2015 was a very big year for containers)
Containers are just one piece (but an important piece) of the puzzle to successfully entering the digital transformation in 2016. According to Bartoletti, this is the age of the customer, and that requires organizations to proactively transform their application infrastructure, development styles and application architecture. Containers make up the application infrastructure piece, but this transformation also includes DevOps (new development styles), cloud services, and microservices (new application architectures). Bartoletti noted that while organizations don't necessarily need containers to drive the transformation, using containers is going to make their efforts a lot faster.
"Modern apps are hybrid, and we are not going back," he said. "Containers represent the next wave of having the tools we need to start carving applications into smaller bits."
But even with microservices and the cloud supporting containers in the enterprise, no single solution fits all when it comes to making the move to containers. According to Bartoletti, transformations require enterprises to consider their skill level and risk tolerance. Container platform options include do-it-yourself, which requires assembly, platform engineering skills, risk tolerance, and strong ecosystem participation; Container-as-a-Service, which requires some assembly, skills, and risk tolerance; and PaaS, which requires little assembly and fewer skills.
How enterprises decide to make the move is up to them, but what's clear is that containers are the future, according to Bartoletti. He noted that eight years ago he was helping people manage virtual machines in the data center; six years ago it was virtual machines in a public cloud; and three to four years from now he has no doubts questions will be focused on how to manage multiple containers.
"Containers are the gullet through which software is eating the world," said Bryan Cantrill, CTO of Joyent.