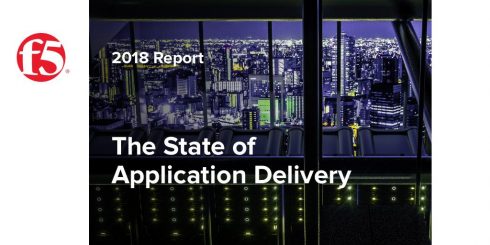 Multi-cloud environments are speeding up organizations app driven digital transformation initiatives, but they come with a price. F5 Networks released its 2018 State of Application Delivery report, which revealed while nine in ten respondents are leveraging multi-cloud environments, they worry about managing operations and security.
"A major transformation is underway in 2018 in both IT organizations as well as the infrastructure and applications they support," said Lori MacVittie, principal technical evangelist at F5 Networks. "The industry as a whole needs to take under consideration the very real challenges enterprise organizations are facing because of digital transformation. This makeover isn't superficial, it's a complete change in business, operational, and engagement models. The lines between application architecture and the network are blurring and will become even more obscured with greater use of public cloud and the growing interest in emerging technologies like containers. The industry needs to understand the security and delivery challenges arising because of that and adjust accordingly – including, perhaps, their own digital transformation to better provide services and solutions customers need to move ahead at full steam."
The report found organizational confidence to withstand an attack in the cloud is falling due to lack of experience and expertise. Twenty-eight percent of respondents reported protecting apps in the cloud is a top security challenge. Top multi-cloud challenges include applying consistent security policies across all apps, protecting apps from existing and emerging threats, optimizing the performance of apps, and gaining visibility into app health.
However, the report also found multi-cloud strategies are transforming the app development process, and are based on the requirements of specific applications. Fifty-six percent of respondents said cloud decisions are made on a per app basis.
"In this year's report, respondents made clear they are heavily focused on building the foundation necessary for application driven digital transformation," said Cindy Borovick, Business Intelligence Director at F5 Networks. "As a result, many are moving toward multi-cloud environments that will enable them to reinvent themselves as platforms for competitive differentiation and innovation, helping create business success in the digital economy."
The survey also found that "digital transformation inspires architectures and IT optimization initiatives." According to 72 percent of the respondents, the primary driver of digital transformation projects is the desire to optimize IT infrastructure and processes. Almost half of the respondents claimed digital transformation encourages the delivery of applications from the cloud.
Forty-one percent of the respondents are exploring new application architectures, including microservices and containers, according to the report. Other features included: IT is embracing programmability, and app services are the gateways to the future.
The report was based on responses from more 3,000 IT, networking, application, and security professionals from around the world.