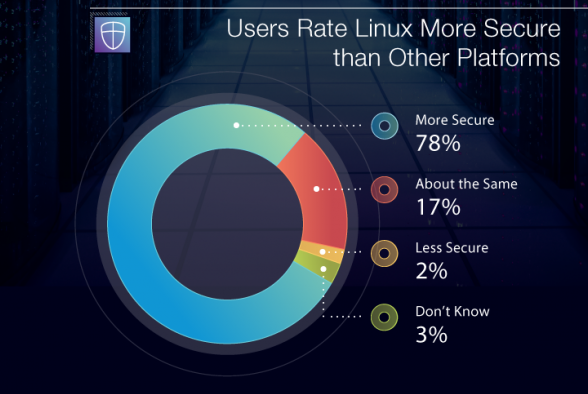 Linux is not only the top platform for the cloud, but users also consider it the most secure compared to other platforms, according to a report. The Linux Foundation has released the results of its annual Enterprise End User Report, revealing that 75% of enterprises use Linux as their primary cloud platform, compared to 23% who use Windows as their primary platform and another 2% who use Unix.
"The way software is built today is modeled after the methodologies and principles used to build Linux, the world's largest collaborative development project," said Amanda McPherson, vice president of marketing and developer services at the Linux Foundation. "The Enterprise End User Report gives us important insight into how the world's largest users are deploying Linux in the most complex environments, and that can inform how to sustain Linux development for decades to come."
(Related: A drone platform made out of Linux)
The report also found that Linux's adoption rate is growing year after year, and at the cost of other operating systems. It revealed that 87% of participants added Linux servers this year, and another 82% plan to add more in the next year. In addition, deployment on Linux has risen 14% in the past three years, while deployment on Windows is down 9%. According to the report, the top drivers for Linux adoption include its feature set, total cost of ownership and security, no vendor lock-in, and internal experience with Linux.
Other findings included 78% of respondents believing that Linux is more secure than other operating systems, and the largest concern enterprises have about it is finding trained Linux staff.
The report, which was produced in partnership with Yeoman Technology Group, gathered responses from 774 participants, and is based on responses from organizations with sales of $500 million or more, or 500 employees or more.
The full report can be found here.