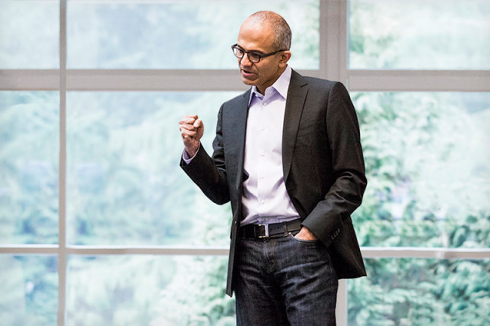 To mark the start of the next fiscal year, Microsoft CEO Satya Nadella sent out a lengthy memo to employees laying out, among other things, a proposed reorganization of the company, a renewed focus on devices and services and a call to action to "reinvent productivity."
The memo, entitled "Bold Ambition & Our Core," talks about transforming Microsoft from a self-described "devices and services" company to a "productivity and platform company." Nadella also reaffirmed Microsoft's commitment to the Xbox platform and touted its CloudOS and Enterprise Mobility Suite offerings as products that will serve as lynchpins in "digital work and life experiences" for users, employees and developers.
(Inside some of Nadella's other early moves as CEO)
"At our core, Microsoft is the productivity and platform company for the mobile-first and cloud-first world," Nadella wrote. "We will reinvent productivity to empower every person and every organization on the planet to do more and achieve more."
Throughout the wide-ranging memo, Nadella worked in name-drops for a parade of others products that will feature prominently in Microsoft's strategy going forward, including Cortana and Windows Phone, the Surface Pro 3, Office 365 and Universal Windows Apps running across all devices. Nadella also pledged heavy future investments in software engineering and data and applied science
(Related: How the industry first reacted to Nadella's ascension to the throne)
Nadella was not shy about challenging the status quo of Microsoft's corporate culture and vowed sweeping change in the company's future to speed up the software engineering process while maintaining product quality.
"Nothing is off the table in how we think about shifting our culture to deliver on this core strategy," Nadella wrote. "Organizations will change. Mergers and acquisitions will occur. Job responsibilities will evolve. New partnerships will be formed. Tired traditions will be questioned. Our priorities will be adjusted. New skills will be built. New ideas will be heard. New hires will be made. Processes will be simplified."
Read the full email here.