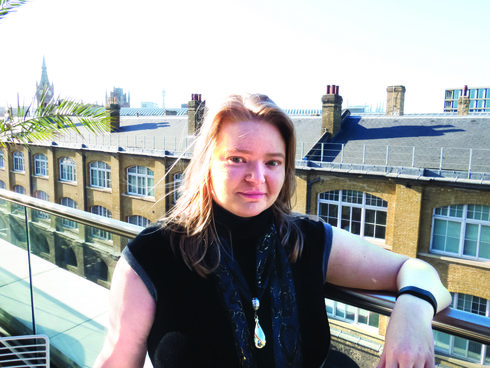 Hollie Kay built her first website in 1999, despite discouragement from teachers over her taking up "computers" as a lifelong career path. She didn't pay attention.
While her schoolteachers dismissed her lack of following orders as "willful disobedience," as she puts it, she was really using machines and websites as a way to cope with being deaf, which she was since infancy.
The 34-year-old London-based front-end developer is now working for Springer Nature with a large team of developers who maintain the publishing platform for scientific and academic journals. The platform publishes a large volume of research, which brings along many challenges for them. The company also focuses on disabled people having equal access to its website. Developers like Kay make sure they produce the "best UX that we can" so that no one is shut out from science or technology, she said.
(Related: Inside the effort to bring programming skills to autistic people)
Kay sees now that there are plenty of developers living with disabilities, and together they can collaborate to "overcome hurdles" and create websites that are accessible to everyone. When she was younger, her own struggles came from attending a school that wasn't equipped to support a deaf student. She said as far as she knew, she was the only deaf person in the world.
"I had trouble describing the nature of my hearing loss to others, as nobody else had any comparable experience," said Kay. "I muddled through for a long time, as most deaf people do, and I'm very lucky to have been surrounded by people who just accepted me as-is."
Kay said it took a long time to find the words to explain the effects of her own hearing loss, calling it "complex and unintuitive." She said that it's hard for people to understand that a deaf person can be sensitive to noise, and that being able to hear a sound doesn't mean it's processed correctly.
Being deaf doesn't change her ability to be a successful programmer. Both disabled and nondisabled programmers use their "brains to solve problems, and they both translate the product of that problem-solving into code," according to Kay.