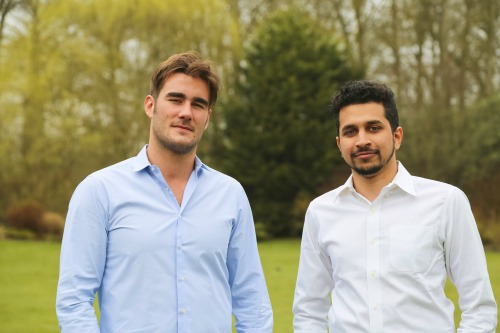 The two millennials who launched their own technology development and coding company, WeKanCode, are finding new ways to prepare clients for the challenging startup environment. Their recently introduced platform, WKC Ventures, assists them with everything from business requirements to product design and development.
The brains behind the three-year-old company are co-founders and tech entrepreneurs Pablo Jimenez Godoy and Sathya Nellore Sampat. Jimenez Godoy cofounded his first startup, a biometric payments solutions provider, during his undergraduate studies at LÉcole Superieure du Commerce Extérieur in Paris, France. The Venezuelan-born Jimenez Godoy has bachelor's and master's degrees in business and finance.
As for Nellore Sampat, he previously worked at the Indian Space Research Organization, and graduated from New York University with a masters in management and systems, and a bachelor's degree in computer science from the College of Engineering in India.
Nellore Sampat and Jimenez Godoy met in New York and joined forces in 2014, scoping out technical conferences to build a client network. From these efforts, the two partners found there were a lot of people that needed help building software products. The problem was, these people had great ideas, great execution capabilities, but they didn't have the money to test the product in the market.
Nellore Sampat and Jimenez Godoy saw this gap as an opportunity to start a business where they can provide not only the development resources, but invest in the ideas that they believe will succeed.
Initially, WeKanCode started off as an engineering company, but after realizing that all startups need the same thing — technology, legal advisory, marketing service, fundraising — WeKanCode transformed into a full-360 one-stop-shop partnership model, ensuring startups are on "their road to success," said Jimenez Godoy.
These one-stop-shops are not unheard of; there are plenty of businesses that offer full design and development services for startups looking to create the next big application or product. The problem, according to Jimenez Godoy, is most people do not have the kind of money to finance such ideas.
That's why WeKanCode approaches clients on a case-by-case basis and invests in the ideas they think have market potential. They provide them with technology, help them centralize a product, build the technology and help them test and market the product in order to get feedback from potential users. Once WeKanCode determines that there is real need in the market for the product, they begin to raise money for the startup.
One of the startups WeKanCode funded was the "Airbnb for horses" application, Staller. It's a website and mobile app that allows horse owners to rent stalls at or near equestrian competitions in the U.S. The company also funded health and wellness startup GreenHopping, which lets users find healthy food choice options on the go or when traveling.
Through WKC Ventures, the company's new platform that identifies ideas with potential, is structured so WeKanCode serves as a technology partner. WeKanCode becomes an extension of the client's team, so they can help define a clear project roadmap, infrastructure consulting and market testing. Also, WeKanCode will expand into a consulting model, which gives their client "go-to market strategies," said the company.
"Our vision is to create innovative technology solutions for real-life business problems," said Nellore Sampat. "As a firm, our goal is to unlock access to high-quality and affordable technology, offering a fair partnership to promising early-stage ventures. Additionally, we aim to leverage a diverse network of investors and strategic partnerships in order to ease the access to capital for these startups," he added.