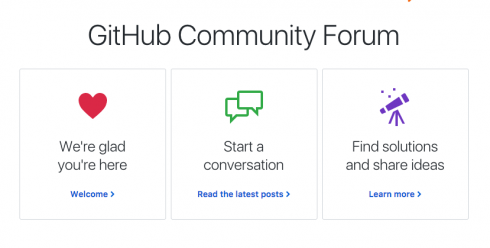 GitHub is officially launching the GitHub Community Forum as well as free trials to the GitHub Marketplace. The company first announced the features at its GitHub Universe event last month. 
The forums add a new social aspect to the version control and web hosting platform, which GitHub says will be valuable for developers hoping to "tap into the collective knowledge of the world's largest developer community—and get help from GitHub staff, too."
The forums will also play host to how-tos, tips and tricks, and users will be ranked based on their level of contribution to the community and expertise.
"The open source community proves that when creative people get together on an open platform, great things happen: Code gets better, new technologies emerge, and the way we build software changes," Barbara Kozlowski, a GitHub staffer, wrote in a post. "Now there's a new way to connect with developers around the world. Join the GitHub Community Forum to ask questions, swap stories, and share ideas, regardless of whether you work on public or private projects."
In addition, a free trial of GitHub Marketplace is now available, giving users 14 days to try out a selection of six featured apps and familiarize themselves with the marketplace and integrating the apps into their workflow. The current featured selections are Travis CI, Waffle, Dependabot, ZenHub, Codecov and Vetter Code Hub.
"Marketplace is made up of dozens of integrations that work seamlessly with GitHub—and that number is growing every month," GitHub product manager Corey Hobbs wrote in a blog post. "With free trials, your team can get started with new tools, refine your process, experiment with developer tools, and find ways to work better, together."