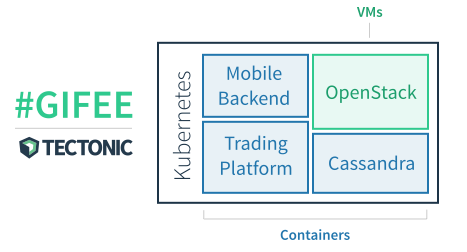 CoreOS and Intel aim to bring virtual machines and containers together with their newly announced technical collaboration. The companies have announced plans to deploy and manage OpenStack, the open-source software for building clouds, with Kubernetes, the open-source system for automating deployment, scaling and operations of applications.
"A collaboration between Intel and CoreOS is a huge step forward for enterprises looking to achieve hyperscale," said Jason Waxman, vice president and general manager of the Cloud Platforms Group at Intel. "Both the Kubernetes and OpenStack communities can benefit greatly by having an orchestration layer to manage workloads across VMs and containers."
(Related: CoreOS' Docker alertnative reaches version 1.0)
Together, CoreOS and Intel want to integrate Kubernetes and OpenStack into a single open-source software-defined infrastructure (SDI) stack. CoreOS also has plans to offer the stack as an option in Tectonic as a way to achieve "Google's infrastructure for everyone else" strategy; simplify OpenStack deployment and management; provide the ability to rapidly release OpenStack clusters for development, test, QA or production; and provide a consistent platform for VMs running on top of Kubernetes.
"Together with Intel, we are accelerating the industry forward in reaching GIFEE (Google's infrastructure for everyone else)," said Alex Polvi, CEO of CoreOS. "By running OpenStack on Kubernetes, you get the benefits of consistent deployments of OpenStack with containers together with the robust application life-cycle management of Kubernetes."
This collaboration marks another step in CoreOS and Intel's commitment to deliver Tectonic on consumer appliances.