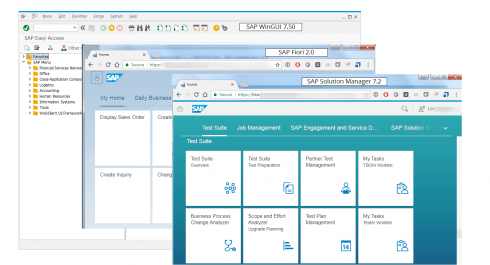 Continuous testing platform provider Tricentis announced the release of Tricentis Tosca 11.1 with new scriptless test automation capabilities. The latest version features new testing enhancements for SAP environments, mobile devices, business intelligence and data warehouses. The enhancements are designed to provide increased risk coverage.
With the new release, Tricentis Tosca supports SAP WinGUI 7.5, has enhanced SAP Fiori 2.0 support for Web Dynpro ABAP object recognition, introduces improvements to the integration with SAP Solution Manager 7.2 and features bi-directional synchronization with SAP Solution Documentation, speeding up test planning in SAP Solution Manager.
"Packaged applications like SAP are the core of critical business processes, yet, testing these applications has been a manual, error-prone process," said Gerd Weishaar, chief product officer at Tricentis. "Tricentis Tosca helps business users build and maintain sophisticated, end-to-end tests required for enterprises adopting DevOps."
Tricentis Tosca's BI/data warehouse testing solution aims to "prevent data integrity issues across all ETL stages and BI layers by exposing data integrity issues when they are easier and cheaper to address," according to the company. With this is mind, Tricentis has introduced new improvements that make it easier for new users to create risk-based BI testing assets for high business risk coverage.
"Typically, data integrity issues can go undetected unless domain experts discover a discrepancy in a report," a Tricentis representative said in a video accompanying the release. "At this late stage, it's difficult and time-consuming to unravel and remediate the problem. The fact of that matter is without a data testing strategy, the testing of your BI tool will be compromised."
The test data management solution in Tricentis Tosca 11.1 has also been updated to improve the user experience for distributed teams working with multiple components of the continuous testing platform. Those teams can now create test data programmatically using the new open API included in version 11.1.
Further usability enhancements in the new release introduce the ability for users to create, update and view bookmarks to various testing activities and Gantt charts, providing overviews of the test plan and associated activity all within the user's own user area.
Mobile platform testing support has been expanded to allow users to test their Android apps in the Genymotion Android emulation platform, and the platform's exploratory testing for mobile support has been updated with the new features available in the exploratory testing for Jira add-on.