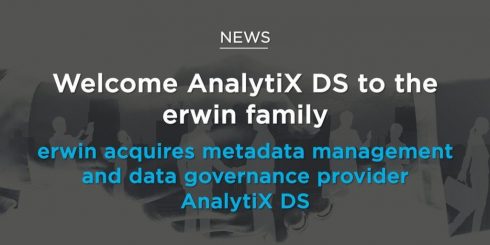 Data governance software company Erwin has acquired metadata management company AnalytiX DS to position itself as one of the only software providers to own and fully integrate each area of data governance and management.
The acquisition, according to erwin CEO Adam Famularo, "provides us with all the metadata management tools as well as all the products associated with it. So now, I can gather and coalesce data from every single data point within an enterprise, whether the databases are stored locally, whether they're in the cloud, there are SQL environments or NoSQL environments, whether the data is structured or unstructured data — all of the data sources we can connect to within an enterprise, and then be able to pull all of that, all the technical metadata, into our business user-defined data governance solution. We are the only company that has a holistic data governance solution from technical data to business data within one governing platform." The platform makes it possible for IT and business users to collaborate to gain business insights from the data, he explained.
Famularo added that prior to the acquisition, erwin did not have "all the connectors into the enterprise, all the technical adapters, all the technical ability to gather and collect that data and put it into the one governing body. That was the big acquisition."
As the amount of data within enterprises continues to grow, enterprises face challenges in terms of knowing where their data is, how it's being used, and being able to view the data to make better business decisions. Famularo added that these large enterprises also need to protect themselves as government regulations surrounding data privacy and security are added and changed.
According to the company's announcement, new features from the acquisition will round out erwin's Edge data governance platform. They include:
Automated metadata harvesting and cataloging from more than 80 data sources, including Big Data, BI reports, modeling tools, relational data and data from many other types of business and IT systems.
Intelligent data discovery, including automated tagging and governance of sensitive data (e.g., GDPR and HIPAA)
Mapping of source-to-target systems to show lineage and transformation of data across the enterprise
Automatic integration and visualization of mappings between data models
Auto documentation and reverse-engineering of existing ETL processes and code
Automated code generation for data integration and data movement initiatives
Impact analysis to show links from physical assets to business representations
Lifecycle management capabilities, including requirements management, testing, release management and version control for enterprise usage and tracking
Automated linkage and synchronization with core data governance capabilities
Famularo said the AnalytiX DS products will retain their brands under the overarching erwin brand umbrella. "They've already released a version that has all of the erwin kind of touch and feel, and they're already demoing it. It should be GA in the next two weeks or so."