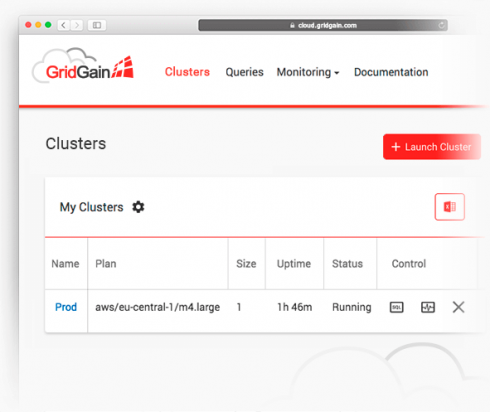 GridGain Systems has announced the beta release of its in-memory cache-as-a-service solution. GridGain Cloud is designed to provide users with the ability to deploy a distributed in-memory cache and access it using ANSI-99 SQL, key-value or REST APIs.
"GridGain Cloud represents an expansion of our in-memory computing solutions to support data-caching for cloud-native applications. For customers that do not require the broader functionality of our flagship GridGain In-Memory Computing Platform, GridGain Cloud offers the same in-memory performance and distributed scale for simpler use cases, coupled with the instant deployment and fully automated management that users expect from cloud-based services," said Abe Kleinfeld, president and CEO of GridGain Systems.
The solution supports JDBC, ODBC, Apache Ignite, GridGain thin clients, REST APIs and web consoles. In addition, GridGain Cloud leverages elements of the company's in-memory computing platform for cloud-based data caching use cases and easy of deployment and management.
'With GridGain Cloud, any developer or analyst with a knowledge of SQL can launch a cluster with just a few mouse clicks. Users can then load data and monitor and manage the cluster from a central console. GridGain Systems will continue to add more capabilities during the beta over the coming months," the company wrote in the announcement.