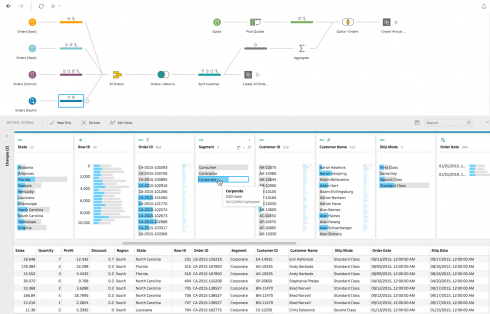 Tableau Software has announced new offerings that will allow organizations to scale their data analytics processes. It is releasing Tableau Prep as well as releasing new analytics solutions Tableau Creator, Tableau Explorer, and Tableau Viewer.
Tableau Prep serves as the company's entry into the self-service data preparation market, according to Francois Ajenstat, chief product officer of Tableau Software. "Tableau Prep is really trying to change the game for how data preparation should be done where everything you do is visual. You see the data, you point and click, and immediately see how that data is transformed so that things that used to be hard to do or repetitive are now done with one click in Tableau Prep," he said.
According to a recent survey from the Harvard Business Review, people spend 80 percent of their time preparing data, leaving only 20 percent of their time left for analysis. By simplifying the data preparation process, organizations will have more time to spend doing useful things with their data.
Tableau Prep is included as part of Tableau Creator, which is one of the three new subscription offerings. It is also available to Tableau Desktop users for free for the next two years.
The new subscription offerings, Tableau Creator, Tableau Explorer, and Tableau Viewer, offer varying levels of analytical capabilities, depending on an organization's unique needs.
Tableau Creator provides full analytics capabilities, Tableau Explorer provides self-service analysis, and Tableau Viewer allows casual users to consume dashboards and visualizations of data that other have created. For example, Tableau Creator is designed for analysts and power users, while Tableau Viewer is designed for a casual user that does not have a data role, but works in a position where data will help them do their job, Ajenstat explained.
By offering these three solutions as subscriptions, organizations will be able to pick the product that fits their current needs, while still offering the ability to scale. They can start off with Tableau Explorer, but if they realize they need something more robust down the line, they can up their subscription to Tableau Creator.
In addition to offering the ability to scale, subscription models are typically cheaper and lower risk. If a product is not meeting needs, users can just turn off the subscription, whereas if they had bought a product outright they might have lost a lot of money, according to Ajenstat.
"With the unprecedented and accelerating growth of data that customers are experiencing, the need to see and understand data is more important than ever before. Professional analysts, teachers, doctors, project managers, marketers, sellers, developers, factory line workers, recruiters – everyone needs data to make better decisions. Organizations are facing the urgent need to empower their entire workforce to help drive more revenue, reduce costs, provide better service, increase productivity, discover the next scientific breakthrough and even save lives," said Adam Selipsky, CEO at Tableau. "Our new offerings will help entire organizations make analytics ubiquitous, enabling them to tailor the capabilities required for every employee."