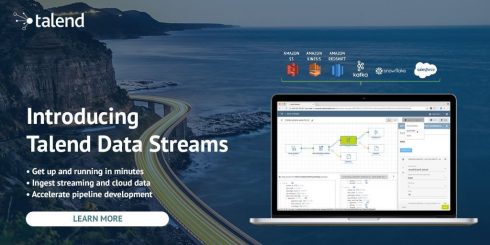 Cloud and big data integration solution provider Talend announced Talend Data Streams during its Talend Connect US event in New York today. Built on Amazon Web Services, Data Streams is a free, single-user application that aims to drastically simplify and speed up the ingestion of mass and varied data.
When developing Talend Data Streams, Talend said there were many big data difficulties they were attempting to address. Citing the "Kaggle 2017 State of Data Science and Machine Learning" survey, those difficulties include dirty or error-filled data, lack of management support for data science teams, lack of clear direction pursue with available data and overall access to available data.
"Digital business demands a consistent approach to the management of security, privacy and process compliance across enterprises," said Ciaran Dynes, Talend's SVP of products. "This isn't possible when 'information islands' fail to observe the standards required to ensure quality and consistency. Thus, businesses need a radically different data architecture to overcome today's broken data economics and effectively put more of their data to work. Talend's mission is to liberate data from legacy infrastructures and improve its availability, quality, performance and value using citizen collaboration and the cloud."
By giving developers the ability to access the data integration capabilities of Talend Data Streams with no installation through a web application, they can be ready to go in minutes, allowing them to sift through disparate, streaming and cloud data simply and, utilizing a live-preview feature, make decisions based on database changes in real time, the company explained. 
"Innovative business insights don't happen in a vacuum," Ashley Stirrup, CMO at Talend. "Successful data pioneers have shown that being data-driven is a 'team sport', meaning all employees need to be involved in collecting, shaping and improving the quality and trust in data. Talend Data Streams now extends that collaboration to include data scientists, data engineers and data analysts using a self-service, easy-to-use, intuitive application for collecting real-time data, so companies can move from imagination to innovation, faster."