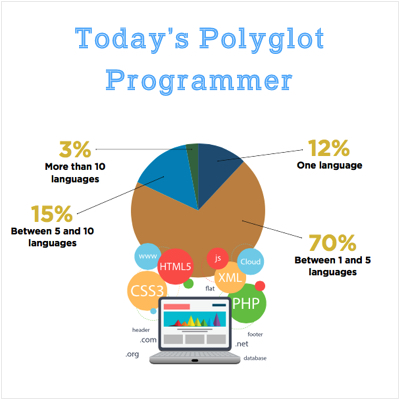 The Application Developers Alliance wants to help the software development industry make smarter decisions by finding out what inspires developers. The Alliance, in partnership with research firm IDC, has announced Developer Insights Report: A Global Survey of Today's Developer, an in-depth analysis of trends in the development world.
"There exists already a significant amount of high-quality data about the app market, including downloads, usage and industry trends," said Jon Potter, president of the Alliance. "But the Alliance research focuses on developers as creators and innovators: what they need to succeed, what tools they use, what motivates them, and what about the future excites them. An annual assessment of developer and development trends is a top Alliance priority, as is more regular topical analysis within the industry."
(Related: IDC's predictions for 2015)
According to the report, developers are no longer just JavaScript or C developers; they are multilingual. The report found that 88% of respondents used more than one programming language, with about 18% using more than five, in order to keep up with new platforms and new technologies. The most popular programming languages included Java, JavaScript, SQL, C/C++, C# and PHP.
When it comes to what developers are most excited about, respondents mentioned wearables, robotics, consumer IoT devices, and enterprise IoT devices.
As for why projects fail, that remains a central debate between developers, according to the report. It revealed that 48% cited changing or poorly documented requirements as the reason for project failure, while 40% cited underfunding or under-resourcing as the problem.
Other key findings included 57% of respondents saying they were anxious about staying current with latest trends, 74% were working in teams, and four in five were are using open-source code.
"Software development is a rapidly changing industry, and the Developer Insights Report gives us a deeper understanding of these changes, as well as a new perspective on what developers are working on, working with, and what they need to succeed," said Potter. "Our industry encompasses an increasingly diverse developer universe that is dealing with the increasingly stressful and complex demands of modern business."