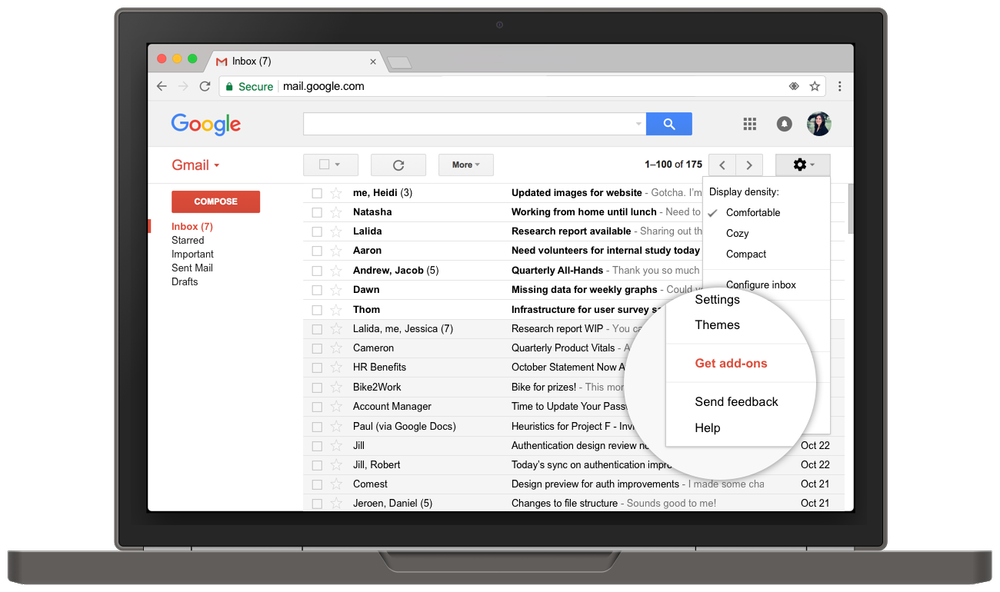 Google wants Gmail to be more than just a place where users receive and send emails. The company is announcing new tools that will allow users to do more from their inbox.
The Google G Suite team is releasing Gmail add-ons, a new extensibility framework for developers, and ten ready to use enterprise integrations. Earlier this year, Google announced Gmail add-ons as part of a limited developer preview. Add-ons enable developers to add app functionality directly into Gmail and have it run natively on the web and in Android with iOS support coming soon.  
Today, the team announced it is expanding the preview to include all developers. "Gmail Add-ons let you integrate your app into Gmail and extend Gmail to handle quick actions. They are built using native UI context cards that can include simple text dialogs, images, links, buttons and forms. The add-on appears when relevant, and the user is just a click away from your app's rich and integrated functionality," Wesley Chun, developer advocate at G Suite, wrote in a post.
Available add-ons in today's release include: Asana for communication; Dialpad for messaging or calling colleagues; DocuSign for signing and executing contracts, agreements and other documents; Hire for managing candidate information and uploading resumes; Intuit QuickBooks Invoicing for creating and sending professional invoices; and Trello for turning email into actionable tasks.
"For many of us, email is mission control—the prompt to generate an invoice, prepare a presentation or follow up on a sales opportunity. With so many to-dos, imagine if you could complete these tasks directly from your inbox without interrupting your workflow," Aakash Sahney, product manager for Gmail, wrote in a post.